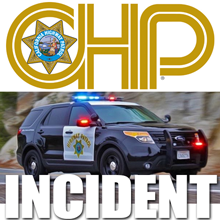 A Sacramento resident was killed Saturday afternoon in a two-vehicle collision on Center Road near Rice Canyon Road
According to the Susanville office of the California Highway Patrol a woman identified as 46-year old Oakland resident Monique McHough was driving her Honda Civic south on Rice Canyon Road from High Desert State Prison approaching Center Road with two passengers in her car at around 2:45p.m.
She stopped at the stop sign in preparation to make a left turn onto Center Road.
At the same time a 46-year old Susanville man, identified by the CHP as Brett Fleming, was driving his Toyota Pickup west on Center Road from CCC toward Susanville, at around 45mph, when for an unknown reason, the Oakland woman pulled out directly into his path.
According to the report there was not time for Fleming to take evasive action and the front of his Toyota Pickup impacted into the driver's door of the Honda Civic.
The impact of the collision caused major injuries to McHough and fatal injuries for her 32-year old passenger. A female juvenile in the Honda was also transported to Banner Lassen with minor injuries.
Fleming received minor injuries in the crash.