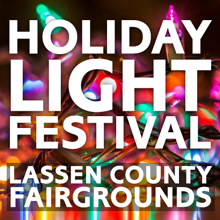 December 2nd – December 25th
Fridays, Saturdays and Sundays until Christmas, the Lassen County Fair is hosting its 'Holiday Festival of Lights' exhibition at the fairgrounds.
The displays are built by different local groups, organizations, and individuals for the public to drive through and 'oooooh and ahhhhhhh' at during the season.
The massive display of holiday cheer is also a stop on the annual Senior Light Tour.
Friday and Saturday gates are open from 5:00 until 9:00p.m., and on Sunday, gates are open from 5:00 until 8:00p.m. 
Gates will be open the whole week from Friday, December 16th through the following Sunday, December 25th.
The hours for December 24th, Christmas Eve, are 5:00 to 10:00p.m.
Please note, Friday, December 16th is walk-through only from 4:00 – 8:00p.m., no cars.
Donations are accepted.