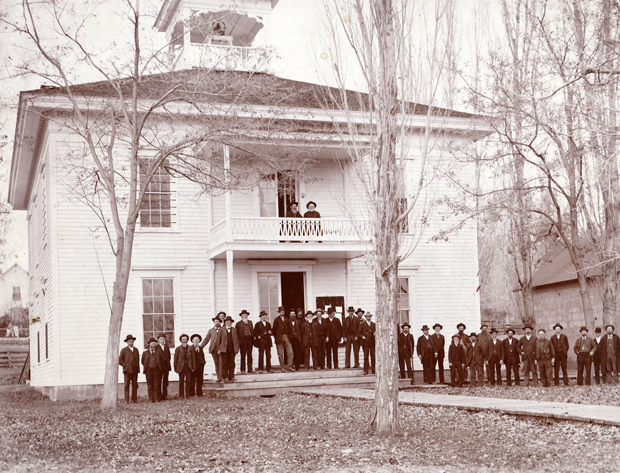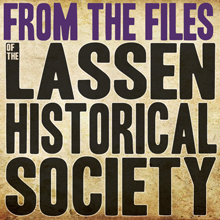 by Susan Couso
Evidence that the old west lasted well into the 20th century can be found in the actions of some of Lassen County's leading citizens. One such influential fellow was Frank Anson Kelley. Kelly was born in Vermont in 1853 and came out west with his family while still a lad.
By 1870, the family was settled in Janesville where Frank's parents, George Fox and Emily Kelley had a farm.
But Frank decided to enter into a career in law. He moved to Petaluma to begin his studies and there he met his future wife, May Livingston. Frank and May were married in 1876. After passing the bar, Kelley moved to San Francisco to practice his profession, but about 1885, Frank and May decided to move to Honey Lake Valley.
In 1888, Frank A. Kelley was elected as District Attorney of Lassen County, and in 1896, he was first elected as Judge of Lassen County's Superior Court, a position he held until he lost the election to I. N. Jones in 1908.
It was Kelley's years as judge that seemed to bring out his true character. He was well-known as a man who used alcohol to excess, and once supplied to the extreme, he had a difficult task in controlling himself.
In 1898, Kelley was presiding over a court case in which former Lassen County District Attorney and State Assemblyman, E.V. Spencer, was representing a client. Neither of the legal minds in this instance cared much for the other.
As Spencer was speaking, Kelley continually sided with the opposing attorney, and Spencer was incensed. He objected in a manner which infuriated Judge Kelley, and Kelley then held Spencer in contempt of court and fined him $50.
Spencer was then inspired to list his grievances with the judge in a manner which may have been a bit harsh. The 5' 7" tall Kelley leapt from his bench and attacked Spencer, striking him in the face.
Spencer, at age 52, was nearly 20 years older than Kelly, but he was willing and able to respond in kind, until restrained by the Deputy Sheriff. This did not quash the onslaught of verbal abuse aimed at Kelley, and the judge had Spencer removed from the courtroom. He was later allowed to return to represent his client.
Kelley went on to cause people to wonder about his competency. In 1906, he was chastised by the State Supreme Court and his decision concerning a case involving railroad right-of-way was thrown out, leaving a legal mess for the parties involved. But in 1907, Kelly's most notorious escapade came to light.
Apparently, and opinions vary, Judge Frank Kelley's alcohol problems worsened to the extreme by August of that year. On a Sunday afternoon, Kelley was stumbling along Main Street, on the boardwalk next to the Emerson Hotel. A young boy named Humboldt Ward, who worked as a clerk in Sheriff Emerson's store, was walking nearby.
Perhaps Ward made a remark aimed at the inebriated jurist or perhaps he made a face or snickered. Who knows? But Kelley took the opportunity to assault the boy and continued until Marshal Arthur E. Long, who was nearby, stepped in and attempted to restrain Kelley.
Kelley, who fell to the boardwalk in his stupor, probably felt no pain during the incident, but by Monday morning his head had cleared a bit and he was sore and furious.
Without calling Long into court, he accused him of contempt, set judgement and sentenced him. He didn't even file his decision with the County Clerk, but immediately went to Sheriff Charles Emerson and ordered him to arrest Long.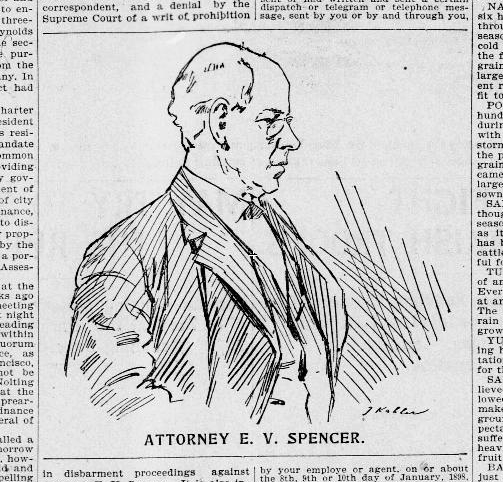 As the jail was full, Long was ensconced in Emerson's Hotel and confined to his room. Judge Kelly, in his complaint stated, "That said Arthur E. Long did on the 11th day of August, 1907, at and in the city of Susanville, state and county of California, willfully, maliciously and contemptuously seize F. A. Kelley, the judge of said court, and jerk and throw said judge down upon the plank sidewalk in front of the Emerson hotel in a vicious, violent, inhuman and cruel manner, dragged him violently upon said plank sidewalk, lacerating his right ear, bruising the left side of his head and spraining his left wrist.
"And then and immediately thereafter, in a loud and angry tone of voice, when said judge remonstrated, did threaten to confine him in the county jail and contemptuously said to said judge that he was not now in court and could redress his wrongs as he see fit. That each, every and all of said acts was made, said and done in an intentionally contemptuous manner and way and was intended to and did bring said court and judge into public disrespect, ridicule and contempt, and thereby tend to prevent and interfere with the future trial of causes in said court."
The judge thereupon fined the town marshal $500 and sentenced him to five days in jail, the order commanding the sheriff to confine the marshal one day for each $2 of the fine not paid. This meant 255 days in jail for Arthur Long. He did not have $500 and was not interested in paying the county treasury for doing his job.
Long applied to the District Court in Sacramento for a writ of habeas corpus, and in addition to denying any exhibition of contempt for the Lassen court, states his side of the case quite fully, and adds that: " he believed, and still believes, that a drunken judge, on a Sunday afternoon, on the public streets of an incorporated town, should be dealt with by the marshal of said town in exactly the same manner as any other drunk and disorderly person."
Young Humboldt Ward went before a justice of the peace and swore to a warrant charging Judge Kelley with assault and battery, for striking him, and the judge was accordingly placed under arrest. Kelley then retaliated by having Ward arrested for disturbing the peace.
Once Judge Kelley heard that Long had filed with the District Court, he dismissed all charges against the marshal, but Marshal Long continued the case for future clarity.
To bring it all to a close, the courts decided against Kelley, who had, of course, acted improperly in all matters.
In 1908, I. N. Jones ran against Kelley and won. The county then, thankfully, had little to keep its interest in Lassen County's court system for quite some time.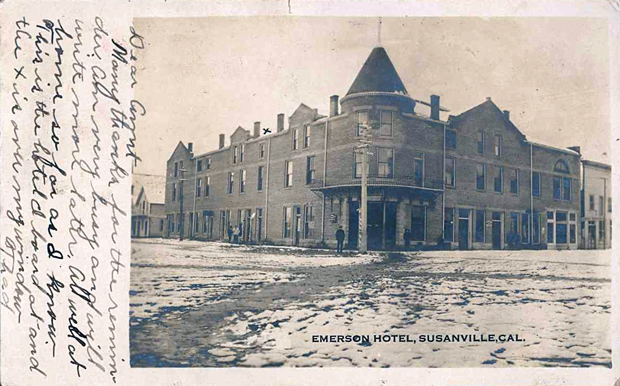 ---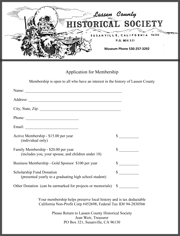 If you are a fan of our weekly history stories you should join the Lassen County Historical Society! It's a fun way to be a part of our county's rich history. When you sign up, you'll receive regular Historical Society newsletters with interesting stories and information. Membership is open to anyone with an interest in area history.
Through your membership you help preserve local history. You can download a membership application by clicking here.