Lassen County – Code Enforcement Officer I/II
SALARY AND BENEFITS
Level I: $20.06-$26.46 hourly, plus benefits
Level II: $21.99-$29.04 hourly, plus benefits
FILING DEADLINE
Open until filled. Application review: September 16, 2022.
DUTIES AND RESPONSIBILITIES
Under general supervision of the Planning & Building Services Director, the Code Enforcement Officer develops and coordinates a program of education and policy compliance to improve conditions on public and private property. The Code Enforcement Officer enforces the provisions of the Lassen County zoning, building, health and safety codes and through field inspections and code enforcement.
The major duties of the job include:
• Meet with individuals and groups to educate, listen and respond regarding property use and maintenance.
• Pursue appropriate compliance procedures if voluntary compliance fails to correct conditions in violation of law or statue.
• Provide conflict resolution resources to the public and other departments; mediate disputes over code violations.
• Research, compile and prepare reports and documentation on program activities; analyze program and develop corrective action.
• Represent Department on committees, at community meetings, before outside organizations and at staff subcommittees as necessary.
• Conduct civil abatement hearings before the Board of Supervisors as required.
• Answer questions on land use and zoning personally and telephonically.
• Maintain records of findings and corrective actions.
• Prepare status reports as assigned.
• Coordinate code enforcement activities with other Divisions, Departments, and outside agencies.
• Assist in the development and revision of zoning code provisions.
• Conduct business license compliance inspections.
• Conduct hearings for revocation of business licenses, when applicable.
• Other duties as assigned.
MINIMUM QUALIFICATIONS
Education: Equivalent to an Associate's Degree from an accredited college or university. Courses in building/construction trades or business preferred.

Experience: Code Enforcement Officer I: Two years of experience working with community groups, community educational programs, or in a customer service function. Experience with building code and property allowances/restrictions is preferred.
Code Enforcement Officer II: Two years of experience that is comparable to that gained as a Code Enforcement Officer I with Lassen County.

License: Possession of, or ability to obtain, and retain, a valid California driver's license.
SELECTION PROCESS
Application materials will be reviewed, and the best-qualified applicants will be invited to Susanville to participate in interviews.
HOW TO APPLY
An application can be obtained from the Personnel Office listed below or by visiting our website at http://lassencounty.org. It is your responsibility to provide specific, accurate and complete information describing how you meet the minimum qualifications. Qualified applicants are invited to submit an official Lassen County application to:
Lassen County Personnel Department
221 South Roop Street
Susanville, California 96130
530.251.8320
Opened August 11, 2022
GENERAL INFORMATION
Lassen County is an equal opportunity employer hiring employment eligible applicants.
Disabled applicants who require special testing arrangements should contact the Personnel Department prior to the filing deadline.
In accordance with the Immigration Reform and Control Act, applicants must provide acceptable proof of identity or authorization to work in the United States.
A thorough background investigation will be conducted post-conditional offer of employment. The investigation may include reference checks, fingerprinting, credit check, driver history and inquiry to local, state and federal files to obtain criminal history information.
All applicants who meet the minimum qualifications are not guaranteed advancement through any subsequent phase of the selection process.
Selection processes may include, but are not limited to, one or more of the following: application review, competitive screening, written examination, performance examination, and/or oral examination.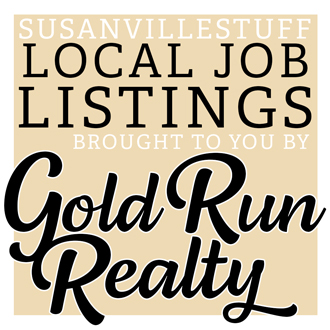 This bulletin is solely for the purpose of announcing a job opening. It does not constitute a contract, expressed or implied, and any provisions contained herein may be modified or revised without notice.