Lassen County – Community Services Officer – Background Investigator – Part-Time with Benefits
SALARY AND BENEFITS
$19.26 – $25.36 per hour, plus benefits
FILING DEADLINE
5:00 p.m., August 25, 2022
DUTIES AND RESPONSIBILITIES
The community services officer, under direction from the Sheriff, Captain or designee, performs varied and non-sworn Law Enforcement work with emphasis on Sheriff's Department background investigations, training compliance and prevention. Conducts and ensures the completion of background investigations for public safety positions (that must conform to Peace Officer Standards and Training (POST) guidelines), non-sworn personnel and volunteers. Assists with the coordination, organization and implementation of training programs for sworn personnel, per POST requirements and legislative mandates. The major duties of the job include:
• Works independently to conduct all investigative components in the POST guideline background process;
• Obtains and reviews background interview forms checking for inconsistencies, errors, omissions, falsifications and minimum requirements;
• Obtains and reviews records from the Federal Bureau of Investigation, Department of Justice, and State and Municipal law enforcement records where candidate has resided and/or worked to determine if candidate was a witness, victim, suspect or perpetrator of any crime;
• Obtains and reviews reports from credit reporting agencies to evaluate candidate's history of responsibility to financial obligations;
• Conducts face-to-face and phone interviews with employers, coworkers, neighbors, law enforcement officials, military personnel, members of the Candidate's family and personal references;
• Makes additional inquiries to assist in determining credibility of statements;
• Writes clear and concise reports and ensures all reports are compliant with POST guidelines and requirements.
• Prepares detailed summary of adverse information based upon objective analysis and evaluation of candidate's background and interviewee statements as measured against the requirements standards provided by POST;
• Meets regularly with management to update them on the status of investigations;
• Provides clerical support to the Training Manager including, but not limited to, coordinates and organizes training thru email and over the phone, prepares spreadsheets and reports, maintains certification records and course rosters and updates the Department Training Plan as necessary;
• Builds, maintains, and updates POST approved courses;
• Maintains training certification records;
• Builds and maintains positive working relationships with co-workers, other county employees, law enforcement agencies, the community and POST; and
• Must be able to perform other CSO duties in the absence of other CSO's including but not limited to: evidence management, civil, youth services, payroll etc.
• Other duties as assigned.
MINIMUM QUALIFICATIONS
Assistant Environmental Health Specialist: Meets the education and experience requirements detailed in this job bulletin, but does not possess a "letter of eligibility for employment as an Environmental Health Trainee" issued by the California Department of Public Health. Cannot perform work as an Environmental Health Trainee. Advancement to Environmental Health Specialist I is automatic once an employee secures a letter to work as a Trainee from the California Department of Public Health.

Environmental Health Specialist I: Fully meets all education and experience requirements and possesses a "letter of eligibility for employment as an Environmental Health Trainee" or certification as a Registered Environmental Health Specialist. Promotion to the Environmental Health Specialist II is without further competition upon completion of the State of California licensing requirements as a Registered Environmental Health Specialist and with the recommendation of the Department Head.
Education and Experience:
Any combination of experience and education that will meet the requirements of the position. A suggested way to meet the requirements is:
Education
Equivalent to the completion of the 12th grade. Supplemental college level coursework in criminal justice, social work and/or human resources is preferred.

Experience
Three years experience working in Human Resources assisting with designing, implementing and monitoring employee development processes, programs and policies, training compliance and staff relations and/or two years of experience as a supervisor, investigator or above is qualifying. At least two years of the required experience must be with a law enforcement agency, social service organization and/or in the human resources department of an organization.

Minimum Age
Must be at least 18 years of age at the time of appointment.

Licenses and Certifications
Possession of, or ability to obtain, a valid California driver's license and satisfactory driving record throughout employment.

Must successfully pass an extensive background check and drug screen.
SELECTION PROCESS
Application materials will be reviewed, and the best-qualified applicants will be invited to Susanville to participate in interviews.
HOW TO APPLY
It is your responsibility to provide specific, accurate and complete information describing how you meet the minimum qualifications. To obtain an official Lassen County Application, visit Personnel at our website at: http://lassencounty.org, or visit our application center at the address listed below. Qualified applicants are invited to submit an official Lassen County application to:
Lassen County Personnel Department
221 South Roop Street
Susanville, California 96130
530.251.8320
Opened August 11, 2022
GENERAL INFORMATION
Lassen County is an equal opportunity employer hiring employment eligible applicants.
Disabled applicants who require special testing arrangements should contact the Personnel Department prior to the filing deadline.
In accordance with the Immigration Reform and Control Act, applicants must provide acceptable proof of identity or authorization to work in the United States.
A thorough background investigation will be conducted post-conditional offer of employment. The investigation may include reference checks, fingerprinting, credit check, driver history and inquiry to local, state and federal files to obtain criminal history information.
All applicants who meet the minimum qualifications are not guaranteed advancement through any subsequent phase of the selection process.
Selection processes may include, but are not limited to, one or more of the following: application review, competitive screening, written examination, performance examination, and/or oral examination.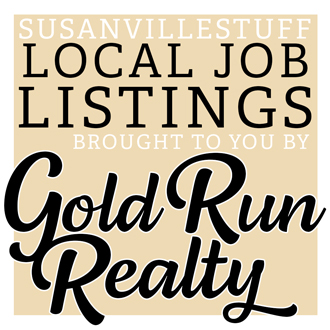 This bulletin is solely for the purpose of announcing a job opening. It does not constitute a contract, expressed or implied, and any provisions contained herein may be modified or revised without notice.