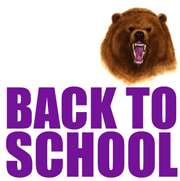 A SusanvilleStuff Feature
by Char Petersen
It's that time of year where our Lassen High School Grizzlies emerge from their hibernation from education and wake up to the new 2012-2013 school year.
It's time for them to grab their backpacks and pencils in preparation of a year full of adventure, education and success.
This year schedule pick-ups begin with the freshman class's orientation on Wednesday, August 15th, at 8:30 a.m. There the incoming high school students will have the opportunity to find their classes and become acquainted with their new peers.
Sophomores, juniors and seniors will be picking up their schedules the morning of August 17th starting at 8:00 a.m. on the first day of school.
During schedule pick-ups, students photos will be taken for the year book and identification cards.
While the older classmen are figuring out their schedules, Lassen High's Link Crew will be hosting a BBQ for all new freshman in the small gym. With food and games, it's sure to be an event your student wouldn't want to miss.
After all schedules have been situated, all grade levels will then attend each of their classes for 15 minutes until 3:06 p.m.
With the first day complete and brand new year ahead, the Lassen Grizzlies are in for a year of memories and fun.