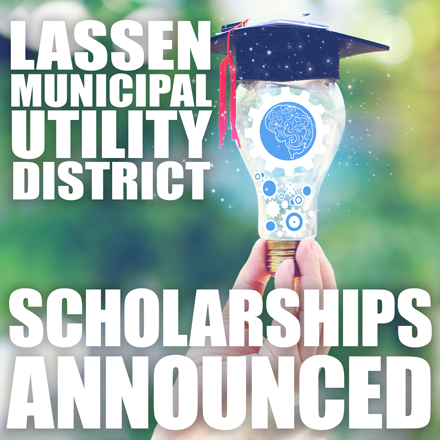 Are you attending a college, trade school or university in the fall? Lassen Municipal Utility District may be able to help you pay for school.
LMUD is offering two $1,250 scholarships for graduating high school seniors and one $500 scholarship for returning college students, in a program designed to enhance the education and resulting careers of deserving local students.
Scholarships will be offered to students whose primary residence is served by LMUD. The program is open to all qualified students; however, preference will be given to those students interested in pursuing a career in the utility industry.
Scholarship applications are available at the LMUD office located at 65 South Roop Street or can be downloaded by clicking here.
Return the application along with a completed essay from one of the topics listed on the application along with an official transcript and a resume detailing your goals, hobbies, activities, awards, and achievements, along with an official transcript.
Applications may be hand-delivered to the LMUD office, or you may mail it to:
Lassen Municipal Utility District, ATTN: Scholarship Program, 65 S. Roop Street, Susanville, CA 96130. Applications must be received no later than April 28th.