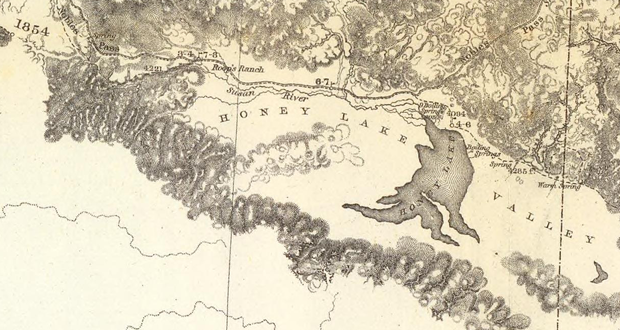 From Kirk's Wagon Road Expedition
August 12, 1857
The northern part of Honey Lake Valley is a fine piece of country, and is fast being settled; there is already quite a number of families here. The Valley runs north 45 degrees west, and on the western and southern side has plenty of fine timber. The lake is from fifteen to twenty miles long and about ten wide. The water at the most southern end is rather brackish, but at the most northern end it is good, from the fact that Susan river, (named after Mrs. Susan Noble,) and a large number of fine springs empty into this part of the lake.
The PahutahIndians live in this Valley, and are generally a fine looking and intelligent set of Indians, and unlike the Diggers, are industrious and not afraid to work.
The entire appearance of the country east of the Sierra Mountains is somewhat broken, but the mountains are detached and valleys intervening so that there is a little or no difficulty in passing from one point to another in any direction.
The Valley is generally good, and capable of being cultivated, and, in the course of time, will be settled. It is true that the valleys are generally small, but they are numerous and will produce almost anything that will grow in California, and it is of vital importance to the central portion of the State that the great thoroughfare should go into the State by the Johnson route, which is the most central.
Now is the golden moment, and if the people of Sacramento and Placerville, and the counties surrounding, but do their duty now, they can take the trade and travel that way for all time to come. Let them look to it well.
Mr. Kirk, myself and five or six more, will start out tomorrow to explore the country around Pyramid Lake, and consequently will not probably, leave this camp for at least a week. Men and animals all well and got along finely so far, not having had a serious accident of any kind as yet. Our party now numbers sixty-seven, all told, and all in fine spirits.
I must endeavor to write you again before we leave this place. Respectfully yours, &c., Frank Denver.