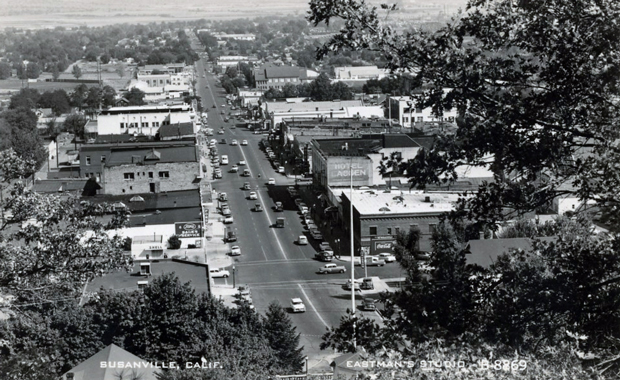 Lassen Attorney Recovering From Gunshot Wounds
"More Bullets Where First Came From" Says Gunman
June 29, 1953
Hardin Barry, a leading Susanville attorney, was yesterday believed recovering from two gunshot wounds inflicted under strange circumstances Friday afternoon.
Held at Lassen County jail is Frank George Stifano, 53-year-old Susanville laborer, who is said to have admitted firing the shots at Barry as he sat in the State Café.
Witnesses said Stifano entered the café by a side door shortly after Barry was seated. Walking past his victim, Stifano suddenly whirled, drew a .32-caliber revolver and shot twice. One bullet lodged in the attorney's back and the other passed through his shoulder near the neck.
"If that isn't enough, there are more where these came from." Stifano is quoted as saying as he left. He went directly to Deputy Sheriff W. F. Hoppe, announcing, "I'm in trouble," and surrendered the gun.
Sheriff Olin Johnson said that Stifano seemed to be suffering delusions about Mr. Barry. It is possible, the sheriff added, that Stifano is nursing some vague grievance from many years back. He keeps insisting he was 'blackballed, the sheriff said. Mr. Barry and Stifano had no known connections, Sheriff Johnson said.
Mr. Barry, who is about 61 years of age, spent a restful night at the hospital and is expected to survive his wounds.