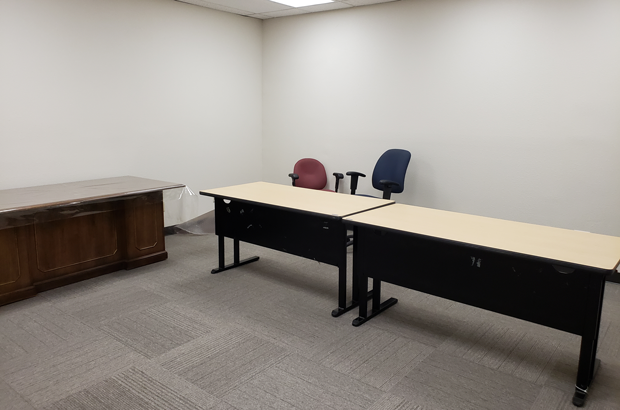 A truly remarkable set of services will soon be available to help children who might have been exposed to abuse or violence in Lassen County. The Lassen County District Attorney's new Child Advocacy Center will provide a centralized location where county agencies can coordinate responses to child abuse – and victims can start down a simpler, less painful, path to recovery.
The nearly $200,000, grant-funded center, which will be initially housed in the District Attorney's Office on Riverside Drive, provides facilities for recording forensic interviews in a child friendly environment while a multidisciplinary team monitors, and participates unseen, in the process.
"We've made tremendous strides in the D.A.'s office in the last few years," explains Lassen County District Attorney Stacey Montgomery, "but the establishment of a CAC is an achievement of which I am very proud. This is a long-term project, but I believe our community will work together in support of the goal and our multidisciplinary professionals will make a difference in these children's lives."
The interview room, and the adjoining conference room, will be used to work with child victims of sexual assault, physical abuse and those who witnessed violence – such as domestic violence or homicide. The center will also be used to help developmentally disabled victims of any age.
A collaborative team of prosecutors, Victim/Witness advocates, law enforcement investigators, child protection social workers, community based victim advocates, medical personnel, county counsel and behavioral health providers work together, confidentially, while remaining unseen by the victim. Each team member provides specific input as to the health and well-being of a child and toward the effective prosecution of a child abuse case.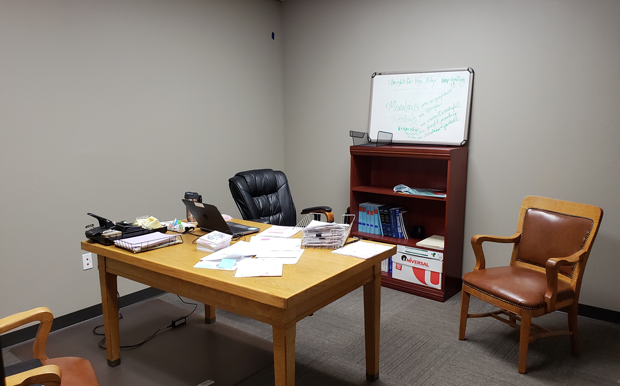 This multidisciplinary approach reduces the number of interviews a child must undergo, reducing the trauma associated in the re-telling of events while the process of investigating and prosecuting a criminal case is underway.
At its very core the CAC concept is that the combined professional wisdom and skill of the multidisciplinary team (MDIT) results in a more complete understanding of case issues. The CAC model is evidence-based and established through best practice as developed within teams throughout California. Lassen County's CAC will deliver the most effective child and family focused response to abuse possible, while focusing on what is in the best interest of the child.
"When the opportunity for funding for the CAC project was announced, I was overjoyed with the possibility of applying for the grant," said Michelle Latimer, Program Coordinator for the District Attorney's office. "I have long believed a center would benefit the children of Lassen County, but finding the money to support a program was problematic. As a survivor of childhood sexual abuse myself, this funding fills me with hope for the future."
"Historically, discussing child sexual abuse was a taboo subject," explains Latimer. "Though it is a crime difficult to imagine, let alone speak of, it happens, every day. Now, through the Lassen County Child Advocacy Center and multi-disciplinary team children can have access to professional, compassionate care, in an environment of respect and support."
Eventually, the center hopes to offer expanded services to include therapy dogs to provide emotional support and minimize stress for siblings and their non-offending family members waiting during the interview.
Existing rooms at the Riverside Drive offices will be remodeled into a child friendly interview space to include child and teen furniture, painted murals, waiting room toys for siblings and a smart board to record the child's drawings during the interview for use as exhibits in court. Victims will have access to the building from a separate entry to alleviate the possibility of interacting with offenders.
Year one of the grant will also fund the new equipment necessary to conduct forensic interviews including audio/visual equipment, computer, recording equipment, office supplies and conference room furniture.
Additionally, the grant will cover the salary and benefits for a new, full-time staff position – the MDIT Coordinator – who will be responsible for routine program management, gathering and reporting statistics, coordinating interviews and the continuing education of the team. The coordinator is also responsible for developing a long-term strategic plan to reach all required mandates in order to become an independent child advocacy center in 5 years.
The goal for the center is to become an independent 501(c)(3) as a sub-department of the District Attorney's office and to be accredited by the National Children's Alliance.
Funding for the Child Advocacy Center comes from Federal Victims of Crime Act Funds through the California Office of Emergency Services.