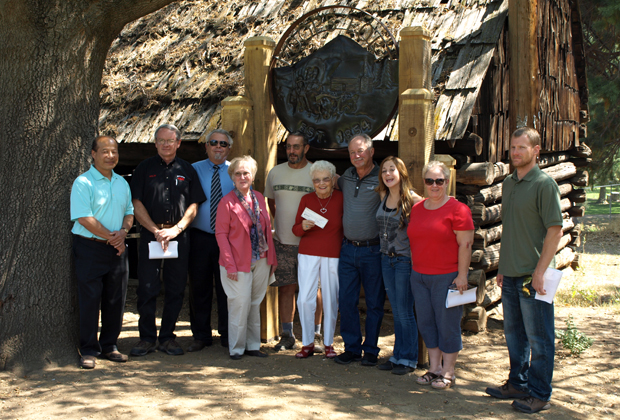 Susanville's Sunrise Rotarians made a generous contribution to the preservation of Lassen County history Wednesday with a donation earmarked for structural improvements at the 160 year-old cabin on Weatherlow street, the first residence built in the Honey Lake Valley as a wave of pioneer settlers streamed into California during the 1850's.
Roop's Fort, or Fort Defiance as it was called after 1863's Sagebrush War, sits on property that the city purchased in the late 1930's from the Arnold family, descendants of town founder Isaac Roop.
Plans have been drawn up and the Historical Society is excited about getting to work on preserving the historic property. The improvements are focused on repairing the wood shake roof, tightening up the sagging and leaning log walls and rebuilding a stone fireplace and chimney that was an original part of the fort.
The Sunrise Rotarians and Historical Society members were joined by Roop family descendants; Great Granddaughter Zellamae Miles, Great-Great Grandson Greg Arnold and Great-Great-Great Grandaughter Morgan Arnold.