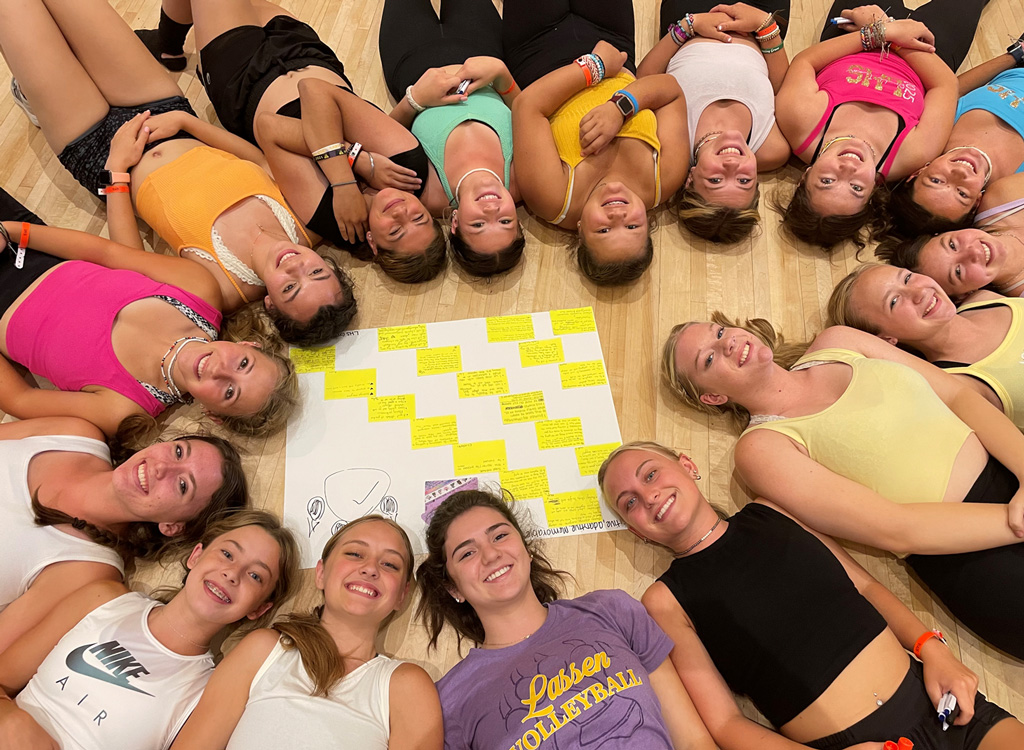 It was back to Sacramento for the Lassen High Grizzliettes as they attended their annual Dance/Drill camp hosted by the United Spirit Association.  For four days, the dancers learned new choreography, perfected their technique, challenged themselves with new dance styles, and bonded as a team. They were joined by four teams from the area. 
Each day started with an hour of warmups and cardio, they moved to technique classes, then broke into different groups to learn dance routines in genres such as hip hop, jazz, kick, military, and pom.  
Pom is a very popular category with dance teams at the moment. It incorporates clean, precise movements with dance styles such as hip hop and jazz. According to head instructor Danny George, it is what many college and pro dance teams utilize and USA recognized that importance and have incorporated more of it in camp choreography. 
The Grizzliettes also learned and practiced Drill Downs, which resemble military units and their marching commands. Drill Downs provide a structure and focus for teams and also emphasizes the sharp, cutting movements in classic Military style routines that they are known for. 
The Drill Team earned recognition both as a team and individually for their accomplishments: 
LHS Drill Team – Superior performance in Hip Hop andTeamwork award 
Pin It Forward recipients (recognized for having what it takes to be a good teammate) – Lily Ammon, Renee Delgado, Mariah Beckman 
Super Sensational ribbon recipients: Olivia Ormachea, Renee Delgado, Hailey Sandoval, Sofia Bennett, Mariah Beckman, Maddison Granfield, Alexa Schmidt 
Chosen by staff to join Super Sensational dance off: Kaylee Micone, McKayla Sandoval, Elizabeth Mahnke 
Super Sensational Semi-Finalists/All American: Mariah Beckman, Maddison Granfield, Kaylee Micone, Renee Delgado 
Super Sensational Finalists: Mariah Beckman and Kaylee Micone 
Drill Down medalists: Olivia Ormachea 2nd place, Renee Delgado 1st place  
They also had plenty of time to goof off, laugh, and hang out in their dorms. Captain Olivia Ormachea said, "This year's camp was so much fun. Everyone had a super positive attitude and worked hard the whole time. It definitely prepared us for our military season."  
Captain Mariah Beckman added, "I will definitely remember this year's drill team camp as one of my favorite memories from high school. We all created a bond that will help us be great throughout the whole year and learned a lot of helpful skills." 
You can catch a Grizzliettes performance under the Friday Night Lights at Arnold Field on Friday September 9th when the Football team hosts the Foothill Cougars. 
---
Remember when news was 'newsy'? When you read about weddings, family events and engagement announcements in the newspaper? If you have something that might be newsworthy, please submit it to shelleybennett24@gmail.com and I'll do my best to include it here in "The Good Stuff."