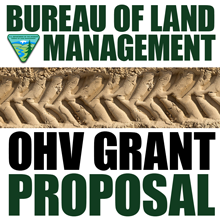 The Bureau of Land Management welcomes anyone interested in off highway vehicle recreation on public lands to share ideas about the use of grant funding, when the BLM Northern California District hosts a virtual public meeting via Zoom, February 17th, from 3:00 to 6:00p.m. The meeting will be divided into three, one-hour segments for the Eagle Lake, Redding and Arcata field offices.
Representatives from each office will present information on their OHV programs and pending requests for grants from the state of California.
Those interested in participating must register for the Zoom meeting. Participants will receive information via email on how to log in to the meeting. Those registered can participate in the entire meeting, or just the field office sessions that interest them.
The Eagle Lake Field Office, will present information, answer questions and hear comments from 3:00 to 4:00p.m.; the Redding Field Office section is from 4:00 to 5:00p.m. and the Arcata Field Office section is from 5:00 to 6:00p.m.
"The BLM uses grant funds from the California State Parks Off-Highway Motor Vehicle Recreation Division to improve off-highway riding and driving opportunities for our communities and visitors," said BLM Northern California District Manager Dereck Wilson. "We appreciate hearing suggestions from those who enjoy off-highway vehicle sports on public lands."
The California State Parks Off-Highway Motor Vehicle Recreation Division is funding the planning efforts through an off-highway vehicle planning grant. The state program supports off-highway vehicle recreation in California by distributing more than $35 million annually collected from gas tax, entrance fees and off-highway vehicle sticker registrations. The program supports off-highway vehicle recreation in California by providing financial assistance to cities, counties, districts, federal agencies, state agencies, educational institutions, and federally recognized Native American Tribes and non-profit entities.
The public is invited to provide feedback to the BLM that will help identify new trails and redesign routes for better connectivity, find safer solutions for shared trails, provide greater public access, and offer a more enjoyable experience. Anyone interested can review and comment on the preliminary applications from March 8th to May 7th by visiting this Cal Parks OHV website.
Public comments or suggestions can be submitted by mail or email to the following offices:
BLM Eagle Lake Field Office, 2550 Riverside Dr., Susanville, CA 96130, attention Marisa Williams; email: mbwillia@blm.gov
BLM Redding Field Office, 6640 Lockheed Drive, Redding, CA 96002, attention Sky Zaffarano; email: szaffara@blm.gov
BLM Arcata Field Office, 1695 Heindon Road, 95521, attention Casey Hague; email: chague@bom.gov
Comments will be most helpful if received prior to the grant submission deadline of March 7th.
The BLM manages off-highway vehicle areas to provide outstanding, sustainable opportunities for recreation on trails designed to minimize impacts on natural resources. The agency works closely with stakeholders and communities in this effort.
In northern California, BLM offices provide OHV recreation opportunities at the Fort Sage and Rice Canyon areas in Lassen County, at the Chappie-Shasta OHV Area in Shasta County, and at the Samoa Dunes Recreation Area in Humboldt County. Additionally, OHV use is allowed on designated roads and trails through wildlands managed by the agency.