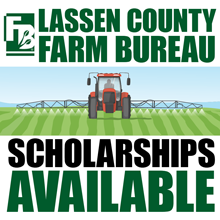 Are you a local high school or college student pursuing a career in agriculture or agri-business? Applications for Lassen County Farm Bureau scholarships and American Ag Credit are now available.
This application must be completed by the applicant and postmarked on or before March 24th, 2023 to be considered by the Scholarship Committee.
Applications are to be mailed to Lassen County Farm Bureau, PO Box 569, Susanville, CA 96130.
The scholarship is awarded to a high school senior graduating from, or who has graduated from, a Lassen County High School pursuing an agriculture or agri-business career. The award will be based on leadership skills, a demonstrated commitment to the industry, grades and financial need.
Finalists will be notified of the date, time, and place of an interview.
Click here to download the scholarship application.
Students with questions about applying for these scholarships should contact their school counselors or call the Lassen County Farm Bureau office at 1.530.257.7242.