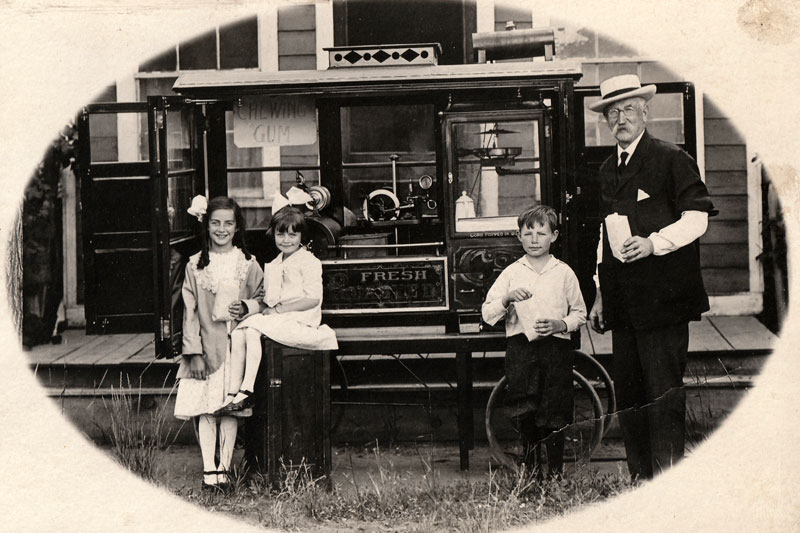 by Susan Couso
Dad Popcorn was a well-known and well-loved figure in Susanville during the early years of the 20th Century. He positioned himself at various locations along upper Main Street, selling treats to many and made a decent living doing something that he enjoyed.
Of course, he was especially loved by children who flocked to his little stand, not only for a treat, but to be charmed by his personality.
But Dad Popcorn was not always Dad Popcorn. He was born William Morton Vellenoweth on July 17, 1853, in Cornwall, England. Little Bill was the third child of twelve children born to Henry and Ann Morton Vellenoweth.
The family soon immigrated to 'the Land Down Under'. By the time Bill was 19 months old, he had a baby brother, named Peter, who was born in Collingwood, Victoria, Australia. As Bill grew to adulthood, he considered himself to be thoroughly Australian.
He was tall, just shy of six feet in height, and had bright blue eyes and dark hair. As he left home to make his way in the world, he hired on as a ship's carpenter and spent considerable time traveling the seas and visiting various ports. Bill became one of those tough sailors who spent time in every port drinking away their pay.
The United States had major appeal for the wandering Australian, and he first established roots in Illinois. He settled in the Chicago area, and it is in Cook County, Illinois where he married Maud O'Toole on February 7, 1882. Maud was just eighteen years old, and Bill was twenty-eight.
Also in Cook County, William M. Vellenoweth became a United States citizen on March 21st, 1887. He was no longer British, no longer Australian, he was an American. But things apparently didn't work out as the young couple had hoped. Before long, Bill was a widower, and decided to go 'out west' like so many others had done.
He ended up in the San Francisco area and used his skills as a carpenter to make a living. The city was growing, and work was plentiful but in 1906, the disastrous San Francisco earthquake shook the area to the ground.
Bill later told how he had loved San Francisco, and he wore a 1906 Buffalo Nickle on his watch chain to commemorate his survival through the disaster. For a while, as the city began to rebuild, Bill had enough work to keep busy, but as the city settled down, he decided to move on. His old ways of drinking and not showing up for work made him a less-than-desirable worker.
In 1912, Bill secured a position building the Fernley Lassen Railroad Line through the Susanville area. His skill as an expert carpenter enabled him to work on the bridge-building crew. But as the line reached its destination, Bill was out of work.
During his stint working on the rail line, Bill continued his unhealthy habits, at one point stumbling drunk, into the snow, and laying there long enough to become critically ill with pneumonia. But what do you do with a drunken sailor?
Dr. William E. Dozier gave Bill a strong lecture as to the danger of his habits, telling the old sailor that he would not survive long unless he changed his ways. Bill apparently took Dozier's advice to heart and never drank again.
He used his carpentry tools as collateral to purchase a little hot tamale wagon and set it up along Main Street. Business was doing well, and he soon added roasted peanuts for his customers.
In 1914, Bill managed to buy a street vendors popcorn cart for his wares, and 'Bill the Popcorn Man' was born, selling from near the corner of Lassen and Main Streets. He realized that most of his business was done during the afternoons and evenings, so he used the morning hours to continue his carpentry work, first from a rented garage on Gay Street, and then in his place on Cottage Street.
Bill was always there, ready when customers of the new theater came and went. But the winters were cold, and Bill continued to have health problems from his 'drunken sailor' days. In 1916, he began building a larger wagon where he could sit inside and distribute his wares through a little window.
'Dad Popcorn', as he was beginning to be known, had his new popcorn wagon moved to the southwest corner of Lassen and Main Streets. He was out of the cold and windy weather at last. With his new establishment, he added candy and gum to his stock, and Bill always only used Jolly Time popcorn.
The town was growing, and automobiles were crowding the streets. Bill's little business took up a lot of valuable real estate. With permission from Marshal Lannie Long, the popcorn wagon was moved to the southwest corner of Gay and Main Streets, and Bill was set up next to the Mt. Lassen Transit Company Stage Office. It was the fall of 1919, and Dad Popcorn's stand had its own spot here for many years.
Dad Popcorn was an established part of Susanville life, and the children who first visited his stand back in 1913, had children of their own by the time his career ended with a bang.
It was Monday, February 17th, 1930, at about five minutes before noon, when the town was shaken by a loud explosion.
Bill was inside his wagon, and two little girls, Shirley Shoemaker and Fannie Frizzie came to see him. Suddenly, the steam tank, which was used to pop the corn, exploded, blasting the popcorn wagon apart.
Pieces went as far as through the window of the Bank of Lassen County, across the street and flinging parts of Bill's little wagon 100 feet away. The Stage Office sustained damage, as well as cars parked nearby, and Dad Popcorn's wagon was destroyed.
But most importantly, though injured and shaken, no one died. Bill was cut, and in shock, nine-year-old Fannie Frizzie was the least injured and five-year-old Shirley Shoemaker was terribly scalded by the escaping steam. The little girl's clothing was shredded and torn from their bodies.
All of the victims were taken to Riverside Hospital, and miraculously survived, although Shirley sustained significant scarring.
Dad Popcorn recovered, but his livelihood was gone. In true Susanville fashion, the community rallied. Donations poured in to help. The Fruit Grower's Supply Company built a new wagon, the Moose Lodge, of which Bill was a member, bought a new electric popcorn maker, and before long Dad Popcorn was back in business.
Perhaps it was the shock of the explosion, or perhaps it was simply from a long hard life, but in the spring of 1934, Bill began to fade. He was settled into the Lassen County Hospital, but efforts to extend his life failed. On May 4, 1934, William Morton Vellenoweth died.
Dad Popcorn, for many years a fixture on Susanville's Main Street, was buried in the Lassen Cemetery. The Moose Lodge took care of the services, but Bill's grave was not marked. Through the efforts of many sympathetic people, a granite marker was placed on his grave in 1989.
---
If you are a fan of our weekly history stories you should join the Lassen County Historical Society! It's a fun way to be a part of our county's rich history. When you sign up, you'll receive regular Historical Society newsletters with interesting stories and information. Membership is open to anyone with an interest in area history.
Through your membership you help preserve local history. You can download a membership application by clicking here.