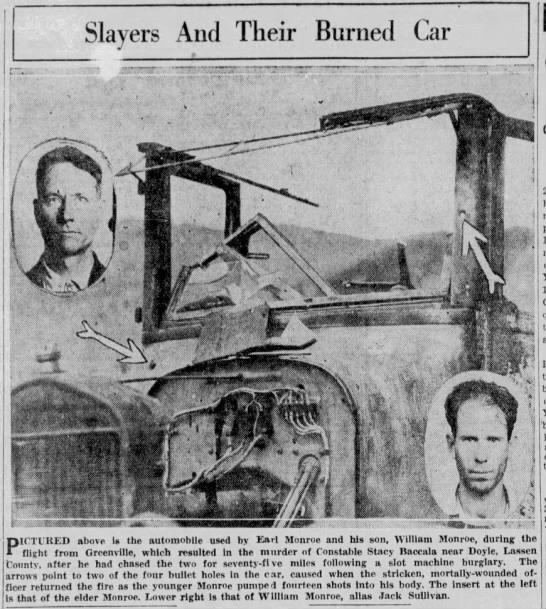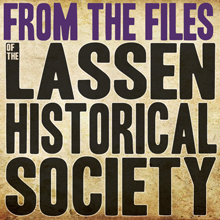 by Susan Couso
It was June of 1932. Normally, this time of year brought a surge of hope for new life and new opportunities, but this was in the midst of the Great Depression, and people were suffering. Men were out of work everywhere. National unemployment was at a devastating rate of nearly 25%, and people were turning to desperate measures to get by.
It was a tough time, and good people were forced to do things that they would not normally do. But there were also those, with less than adequate moral fiber, who used the situation to justify their misdeeds.
In Greenville, Earl and Billy Monroe, a father and son duo, decided to take a shortcut to wealth.
Sometime between closing-time on the 15th and the early hours of the 16th, the Monroes broke into Bert Bergstrom's 'Bert's Place' pool hall.
Bert went to his establishment about 2:00 a.m., on the 16th, to pick up supplies to go fishing and found the place in a mess. Taken, were two slot machines, about a dozen packages of cigarettes, a radio and $36 in cash. Bergstrom immediately alerted authorities, and then went fishing.
When Constable Stacy Baccala heard the news, he went into action. He had seen a suspicious coupe the evening before and found that tire tracks at the scene of the crime matched those of the coupe.
Witnesses said that the suspect's auto had left in the direction of Susanville and was on the way to Reno.
A little before 3:00 a.m., Baccala sped off towards the escaping bandits. When he reached Susanville, the town was quiet, so Baccala left a note on the jail door to let authorities there know what had happened. He then drove, full speed, after his prey.
By the time Baccala approached Milford, he saw the coupe in front of him. He turned on his lights and siren and, just south of Milford, the coupe pulled over.
By now, it was about 5:00 a.m., and Lyman Styles was startled awake by the sound of the siren. He got out of bed and went out to see what was happening. Styles saw it all.
Baccala pulled up behind the stopped coupe and a little to the center of the roadway. He got out of his car and approached the bandit vehicle. Baccala spoke with the occupants, and then removed a jug and what looked like a revolver belt.
He then partially unloaded the bandit coupe, putting the loot into his patrol car.
About 15 or 20 minutes had passed, when the sound of a gunshot rang out. At this point, Styles was putting on his clothes and did not see who fired the first shot. He rushed to the window and saw bullets flying towards Baccala, who had raised his hand and then fell.

The constable then ran, fell, and crawled towards a fence and tried to hide in the brush. But the assailants pursued, with one of the men doing the shooting.
One shot went through his arm, sideways. One shot went through his chest, and both arms were nearly shot off. The shooter then fired a bullet into Baccala's mouth.
The bandits took Baccala's keys and then separated; one taking the officer's car and the other driving the coupe.
Lyman Styles was stunned and scared. He kept quiet, but as soon as the murderers left, he went to the scene. He saw that there was nothing that he could do to help, so he ran about a mile-and-a-half to the nearest telephone, and then called the sheriff in Susanville.
Lassen Sheriff James B. Leavitt, called Sheriff Russell Trathen in Reno. Soon, the word had spread throughout the area, and in Reno, the authorities were waiting.
The outlaws had been partially identified. One was named Jack Sullivan, but his accomplice was unknown.
It was soon determined that 'Jack Sullivan' was an alias, and the robber's actual name was William 'Billy' Monroe. Monroe had also used the alias, 'Robert Bigelow', and had a long criminal past.
It was William Monroe who sped towards the 'Biggest Little City' in Baccala's car, and just about three miles from town, he was caught. He was driving at over 70 miles per hour, and he was drunk.
When he was apprehended, he admitted his crime and said that he had done "all of the shooting."
He claimed that his partner was 'yellow'. Monroe said, "I am a cold-blooded killer when I get going."
He added that he had served two terms in California prisons and was released from a Nevada prison a few months before. That time, he had been 'sent up' for robbing a grocery store. He also added that he had been mining around Greenville.
Thirty-year-old William 'Billy' Monroe was taken to Susanville, and the hunt began for his conspirator.
Monroe was no help, first 'fingering' a Roseville pastor, Claud 'Scarface' Fairfield. Fairfield, Ku Klux Klan member and wanted criminal, was 'on the lam' from authorities.
Plumas County Sheriff, L.A. 'Archie' Braden and Traffic Officer, Tom Birmingham, were not sitting idle. They were Stacy Baccala's friends.
The officers did amazing detective work to find just who the missing murderer was. Braden found empty cartridges from a Mauser revolver and a Springfield rifle at the scene near Milford, and similar shells near a camp at Wolfe Creek Canyon, where the Monroes had been camped.
At Wolf Creek Canyon, they questioned other miners, who were happy to help. The Monroes were not well-liked.
The Monroes were identified through police photos, and the miners said that the duo acted strangely and changed their license plates regularly. They also delighted in firing off their weapons.
The father, Earl Monroe, had mentioned that he was from Oroville, so the officers immediately left for there. After inquiring in Oroville, they learned that Earl Monroe's daughter, Eva Spoon, lived in Reno.
With the accomplice to the burglary and murder identified as Earl Monroe, authorities sprang into action. Lassen's Sheriff J.B. Leavitt offered a reward of $750 for the arrest and conviction of William Monroe's father.
An 'All Points Bulletin' was issued throughout the area with orders to, "shoot to kill" if any resistance was met. Sheriff Trathen and Plumas Sheriff Braden, along with other officers, worked to trace Monroe's activity over the past few years.
In Reno, Eva Spoon's home was 'staked out' as they waited for Earl to show his face. On June 24th, it all came to an end. Earl Edwin Monroe, age 50, was arrested by Sheriff Trathen. Monroe called his son, "crazy", and said that the two had argued, and he left.
As the Monroes left the scene of Baccala's murder, the son sped on to Reno, where he was caught. The father, Earl, drove up into the hills, stashed the loot, buried Bacala's gun, and left the coupe. He then walked to Reno to hide out with his daughter. He later returned with his son-in-law, Elvie Spoon, and burned the car.
With the murdering duo incarcerated in Susanville, the story began to become clear. Billy Monroe freely admitted his actions, and in an arrogant tone, said that his final shot into Baccala's mouth was a 'mercy shot' to prevent further suffering. He and Baccala had been childhood friends in Greenville.
On July 20th, Earl Monroe pled 'not guilty' and had his trial set for July 26th at 10:00 a.m. He admitted his part in the burglary, but said he had no part in the murder. He was given a sentence of one to ten years in prison for 'manslaughter'.
On July 23, 1932, William Monroe, confessed killer of Stacy Baccala, was sentenced by Superior Court Judge Harry D. Burroughs to be hanged on September 30,1932 at San Quentin. Monroe had claimed 'self-defense', but it did him no good.
Both of the Monroes were then incarcerated in San Quentin to await their fate. By August, Billy Monroe was just as 'cocky' as ever, and refused to allow his attorneys to appeal his case, saying, "I'm ready to take my medicine."
He joked with attorneys and invited Sheriff Braden to attend the 'party'. But by the middle of September, he was getting scared.
Monroe petitioned California Governor James 'Sunny Jim' Rolph for a commutation of his death sentence. Under advice from the Supreme Court, Rolph gave a 30-day stay of execution to study the case. Meanwhile, Monroe, in an attempt to gain sympathy, willed his body to Stanford University for experimental purposes.
On October 28th, the father and son met to say farewell. After the 30-minute meeting, Billy attempted suicide by slashing his wrists and the back of his neck with a razor blade, which he had concealed in his wooden leg.
The wounds were deemed 'superficial', and the process continued. As Monroe was led to the gallows, guards returned his confiscated leg to him.
At 10:07 a.m., the trap was sprung, and at 10:19 a.m., William 'Billy' Monroe became the first person from Lassen County to be lawfully hanged since the county was formed in 1864.
In November of 1935, Earl Monroe won parole from prison. He was released in 1938, and died in 1940 in San Francisco.