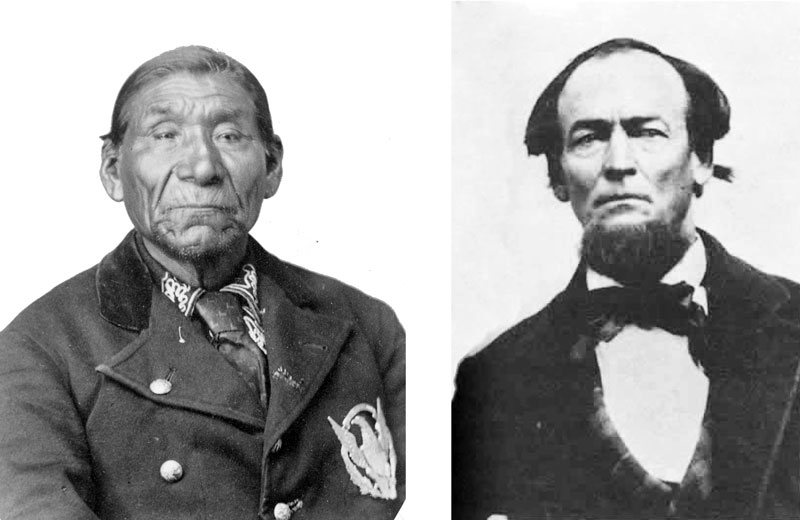 by Susan Couso
The Washoe people had for thousands of years lived in the area around Lake Tahoe and out into the eastern flank of the Sierra Nevada mountains. They also traveled up into what is now Lassen County. The gold and silver discoveries in the Comstock Lode brought emigration and great changes to their lands and pushed the Washoe even farther north to seek resources.
These people had forever been 'one' with Mother Earth. The earth gave, and they in turn, showed their appreciation. The years went by with little note, but the seasons were of great importance. Spring brought new life and the abundances of summer made life easier. But the autumn was an important time to prepare for the harsh winter ahead.
Meat, fish, berries, and fruits were dried, roots and tubers were dug, and everything was preserved and stored away. Through it all, the Washoe worked together and shared their blessings.
As emigrants arrived in the Honey Lake Valley, they had immediate conflict with these Native people.
The emigrants had come to this country with the hope of owning their own land, something which was too difficult to obtain in most countries. Here, they could work hard and achieve, and the 'Gospel of Wealth', promoted by many, proved that if they achieved, God loved them. Ownership was everything.
One culture was at odds with another in the Honey Lake Valley, and it was inevitable that there would be conflict.
In early October of 1857, the Washoe were in the area around Milford, gathering for the winter, as they usually did. They happened upon William Morehead's place, where he had planted three acres of potatoes. Morehead was away, at Susanville, when his patch of spuds was dug up and carried off by the Washoe.
As Morehead returned home and found what had happened, he alerted his neighbors, and they were all outraged. They gathered a group of men to teach the Washoe scoundrels a lesson and took off in pursuit.
Morehead stayed behind as six of his neighbors hurried to the closest Washoe camp and began firing.
They killed three Washoes and wounded one before being forced into retreat. The Honey Lakers then went for reinforcements.
With added help, they again attacked the Washoe camp. The camp's inhabitants ran away, but this time the Honey Lakers managed to 'capture' some of the escaping potatoes.
More men came in from surrounding areas and even from as far away as Indian Valley, and they decided to make an assault on the potato thieves. They made Old Tom Harvey their captain and the campaign against the Washoes was planned. There were three Washoe camps scattered along the east face of the mountains, so the Honey Lake force split into three groups.
On the morning of October 17th, thirty or forty men began the attack at dawn. As they waited from above, watching down on the camps, gunfire signaled the start. Several of the startled Washoe were killed or wounded before they could react. But as they cleared their heads they responded in force.
In the sagebrush at the base of the bluff about five of six miles below Milford, the Washoe managed to secure themselves in some large boulders. The Honey Lakers had little cover as timber was scarce. They managed to get behind the scattered trees, but the cover was insufficient for some.
Old Tom Harvey was a 'fluffy' guy and ended up with a rather small tree. Newton Breed was a skinny little man, and his tree was a big one. Harvey, after trying in vain to condense his large frame to fit his tree, asked Breed to swap with him. But, as Asa Fairfield wrote in his book, "neither at that time nor any other was Breed known to trade a big tree for a little one."
There were about 150 Washoe men in the fight, and the Honey Lakers were suffering, although there had been no deaths and only one injury. Joe Eppstein was shot in the thigh and had to be carried. But the Honey Lakers were getting worried.
William Weatherlow arrived on the scene in the 'nick of time' accompanied by a few of his men and Winnemucca and his group of Paiute warriors. Unfortunately, as the saviors sped in to help the Honey Lakers, one of them shot one of the Paiute men.
This Paiute warrior's death was an outrage to Winnemucca, and it was only with tact and promises that he was persuaded to continue supporting the Honey Lake settlers.
With the mighty show of force from Weatherlow and Winnemucca, the Washoes eased their attack. They had many losses, from seven to eleven killed, and fourteen wounded, while the Honey Lakers were extremely fortunate.
The settlers in Honey Lake Valley were scared. They were greatly outnumbered if the Washoe continued their attacks and Winnemucca was still not too happy with the settlers either. If these two Native forces combined, it would be disastrous.
A group of men from Honey Lake Valley and from Indian Valley got together to ask for help. They sent two messengers with a letter to Sacramento to ask Governor J. Neely Johnson to send troops and supplies to suppress the 'uprising'.
They arrived in Sacramento on the 23rd or 24th, but the governor was not there. The men then took their plea to the military authorities. When word reached the general populace, opinions of the affair were widely discussed. It was pointed out that the Honey Lakers had long considered themselves to be under their own leadership and denied owing taxes or being under control of Plumas County's duly elected officials. Why were they coming to California for help? Sentiment was not on their side.
Eventually, some small amount of arms were sent to relieve the situation. The Plumas Rangers arrived in force to help quell the fight, but not a Washoe was in sight.
The Great Potato War was over, and peace reigned in Honey Lake Valley, until the next skirmish. For as long as one person believes that their ideology and beliefs are more important than another's, they will live in conflict.
---
If you are a fan of our weekly history stories you should join the Lassen County Historical Society! It's a fun way to be a part of our county's rich history. When you sign up, you'll receive regular Historical Society newsletters with interesting stories and information. Membership is open to anyone with an interest in area history.
Through your membership you help preserve local history. You can download a membership application by clicking here.