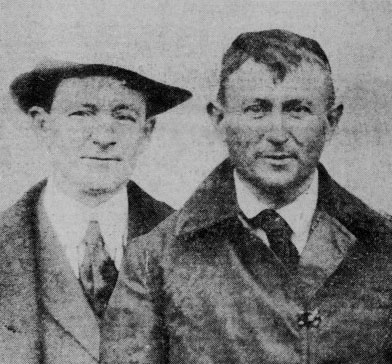 by Susan Couso
In 1853 when Bavarian inventor, Philipp Moritz Fischer added pedals to the already popular bicycle it became a sensation in both the U.S. and in Europe.
Lassen County's involvement in this new mode of transportation began in the late 1880's as the area's young men took up the latest fad.
The group, including George Roseberry, Ross Bangham, William Brashear and Thomas Massey, competed in relay races with Reno and Carson City teams. The Susanville Wheelmen would ride to Amedee to board the train, and then travel to the Nevada towns to compete. They often outdistanced the Carson teams, but Reno dominated the races for many years.
Thomas A. Massey, team captain, was a short wiry man, with loads of energy, and he loved bicycles. He was born in Pawtucket, Rhode Island in 1877, and by the very late 1890's had rooted himself in Susanville.
In 1897, Massey rode a bicycle from Pawtucket to Susanville, quite a feat considering the rough terrain and high mountains. He left Pawtucket on May 15th and passed through the Redding area in September before arriving home in Susanville.
Once settled in Susanville, Massey opened a bicycle shop on Main Street. This shop was destroyed in the great fire of 1900 which burned over 40 buildings in town. But, determined as ever, Massey rebuilt his shop and continued promoting the bicycle lifestyle.
On December 26, 1898 Thomas Massey settled down a bit and stood before Judge F. A. Kelley to marry Emma A. Newington. Emma's parents, George and Phebe Newington hosted the event at their home in Susanville.
On March 4, 1900, their daughter Estelle Alma Massey was born, and by the U.S. Census in June 1900, Thomas was a widow. Baby Estelle was taken back to Rhode Island and raised by her Massey grandparents, William and Ellen. And Thomas Massey began to recover.
In 1903, he married Grace Jensen in Susanville, but by the 1910 U.S. Census, he was divorced. Thomas never married again.
So, Thomas Massey was young, single, and full of energy. He had black hair, blue eyes and was always described as 'short'. He was also usually described as 'feisty', and nobody wanted to mess with Thomas Massey.
In 1910 Thomas returned to Pawtucket to visit his family and see his then ten-year-old daughter. His return trip home became a sensation as he and Teddy Bertram decided to ride their favorite mode of transportation. They left New York City on their bicycles and rode across the continent to San Francisco where they received prize money for the stunt.
After spending their award, the two headed for Susanville, arriving with only a loaf of bread to their name. Frank Bangham, amused at the situation, volunteered a cake of honey to supplement their meager meal. Bertram returned to San Francisco.
Massey eventually began working as a 'timber cruiser' for the Red River Lumber Company, and by 1914 he was serving as a 'night officer' for the marshal's office in Susanville.
In 1914, as Town Marshal Charles Spalding was pressured to resign following disapproval by Susanville citizens, Tom Massey applied for the job. He was successful in his application, and began a career marked by some sensational law enforcement.
The feisty little marshal was a force to be reckoned with. His dedication to his job brought respect, even from the local criminal element.
At the end of 1916 a congregation of U. S. Marshals, who had all been assigned to a job in Susanville at one time or another, and who had been entertained by Massey, held a New Year's dinner in San Francisco in honor of the petite marshal with the giant personality.
The Industrial Workers of the World was rife with dissidents and became a perfect format for German intervention during WWI. In 1917 a group of I. W. W. union members (or Wobblies as they were called) set out to damage U. S. industry.
These Wobblies poisoned cattle, burned buildings, destroyed grain, and killed sheep in an attempt to hurt the war effort. Six of these Wobblies made their way to Westwood, where they set fire to the Red River Lumber Company, causing about $1,000,000 in damage.
In February 1918, Fritz Hagerman, a German and one of the pyromaniacs who had attacked the lumber mill, returned to Susanville. He was immediately apprehended by Thomas Massey.
With some gentle persuasion from the Town Marshal, Hagerman confessed and was turned over to Federal authorities. Thomas Massey, as always, got the job done.
Things went on as normal around town, and Thomas Massey made sure of it. In 1922 he got Mabel Boyle to confess to murdering her husband. James Boyle had left a suicide note and was found dead of a gunshot in his cabin. But Massey figured it all out.
In April of 1922, Thomas Massey resigned his position as Town Marshal and became Constable of the Honey Lake Judicial District, a big step up for his career. This gave him the opportunity to work outside the city limits to control the gambling and bootlegging establishments which had previously lurked outside of his jurisdiction.
In early January of 1923 Massey arrested a young man on a theft charge, and while taking him to jail, the man pulled a gun and fired a shot at the constable. Massey managed to avoid the bullet, subdued the man and then continued on to the county jail. You just didn't mess with Tom Massey.
Massey was always in a hurry, and at one time he was even arrested by the newly appointed Highway Patrol officer for 'speeding'. Massey appealed the case and was acquitted.
In February 1926 he took the street down Winchester Hill (south end of S. Lassen St.) at a greater speed than conditions allowed. The constable's car slipped over the embankment and came to a stop 60 feet below, right side up. With the aid of a tractor, the car was pulled back on the road and Massey continued his journey.
The pool halls outside of town were a magnet for trouble. Prohibition still ruled and it was next to impossible to uphold the law and arrest all of those involved. Still, Massey patrolled his jurisdiction, looking for vice and corruption.
The Rio Vista Pool Hall was a popular place, and in early November of 1926, Massey visited the 'hang out' looking to find evidence for a case. When he stepped into the room, the constable was forced to spring into action as he found Frank 'Tiny' Haberhauer and John Bondanza attacking another man. Massey attempted to help the victim but was confronted by Lulu Bondanza holding a revolver.
Massey retreated to his car and secured his weapon before reentering the hall. He managed to arrest Haberhauer. Taking his prisoner to jail, Massey was unaware that the crook concealed a knife. Haberhauer suddenly slashed the constable's arm several times before he was subdued by onlookers.
While Massey was having his wounds dressed by Dr. Daniel Coll, the three remaining members of the criminal quartet sped by in an automobile.
Massey commandeered a car and took off in pursuit. He fired his pistol towards the speeding escapees, but they continued. Then, just about two miles from town, the villain vehicle suddenly lost control and overturned, pinning the occupants underneath. John Bondanza and Helen Edwards were hurt, but Lulu Bondanza was dead. Thomas Massey had stopped the bad guys.
At a great loss to Lassen County, Thomas Massey was appointed as a U. S. Marshal in Sacramento about 1930 and served in that capacity for many years before retiring. He moved to Berkley to be near his brother, Clifford, and died there in 1948. Thomas Massey remained feisty until the end.
---
If you are a fan of our weekly history stories you should join the Lassen County Historical Society! It's a fun way to be a part of our county's rich history. When you sign up, you'll receive regular Historical Society newsletters with interesting stories and information. Membership is open to anyone with an interest in area history.
Through your membership you help preserve local history. You can download a membership application by clicking here.