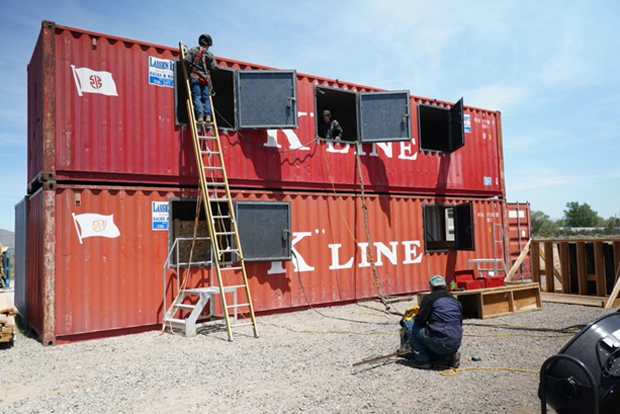 By Michell Williams
LCC Interim Dean of Instruction
During the Spring 2022 semester, the Lassen Community College Fire Technology and Welding programs partnered to create new fire training props at the Lassen County Fire Training Center.
LCC Welding program students, Melody Banuelos, Quentin Cowson, Daniel Eckelbarger, Mitch Holland, Ryan Monday, and Jorge Rocha worked together to create seven windows and two frames with one hatch to pass between the floors of two shipping containers.
Once the windows, frames, and hatch construction were completed in the LCC Welding Technology Facilities Maintenance class (IT-72), the students went off campus to the Susanville Fire Training Center with the LCC mobile welding trailer for installation in the shipping containers.
On site, the students prepped the window openings and the openings between the floor and ceiling of the two shipping containers cut out by Susan River Fire Protection District and Susanville Fire Department.
The students welded hooks to the containers for fall protection and to help hoist the 150-pound windows up six feet off the ground to the second story. After the students completed the prep work, five of the seven windows were welded in place along with the frames between the floors for pass through leaving two spare windows for future projects.
The lower shipping container houses props for an SCBA Confidence course in which Firefighters are challenged to work in confined spaces and entanglement areas and complete the course while using air from their SCBA's.
The upper container will be used for firefighter survival techniques including window bailouts onto a ladder and includes a floor opening in which firefighters will simulate rescuing a firefighter who has fallen through a floor into a basement.
The new training props will be available to any Fire department in the county as well as used extensively for Lassen College Fire Technology classes.
This project was completed in cooperation with multiple fire agencies, associations, private businesses and the Lassen College CTE departments. Participating local fire agencies included the Susanville Fire Department, Susan River Fire District, and Cal Fire.
The planning, coordination and some funding for the project was through the Lassen County Fire Officers Association and the Lassen College Fire Technology Department. Additional funding for the steel window frames was provided by a grant through Lassen Community College. The two containers were provided to the training center by Cal Fire and the containers were moved and stacked by Terry Mallery of Lassen Rents.
Road base was funded by the LCFOA and leveling of the dirt pad was completed by Norm Shepherd of Pee Wee Enterprises.