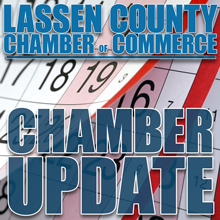 Patti Hagata, Executive Director
The Chamber board will meet on Thursday, June 10, 2021, for the monthly board meeting that will begin at noon, at Diamond Mountain Casino in the hotel conference room. The board encourages member attendance and comment; if you would like to address the board, please contact the office staff prior to the board meeting so that you can be added to the agenda.
The board is accepting applications to fill two board vacancies, deadline to apply is Monday, June 7th.  Chamber members who are interested may call the Chamber office at 257-4323, to have a board application forwarded or stop by the office, located at 1516 Main Street, Susanville, to pick one up.
Plan to celebrate with us at the first Chamber Mixer of the year that will be hosted by Susanville Auto Center on Thursday, June 24, 2021, celebrating the grand opening of the new service center. The mixer will be held from 5:30- to 7:30p.m.; live music, food and beverages will be served. You do not need to be a chamber member to attend, everyone is welcomed.
2021 Labor Law poster are still available for sale at the chamber office; stop in to purchase your poster, that features both federal and state labor laws, to post at your business. All businesses are required to post an updated poster at each workplace.
Business Advisor Clint Koble, from the Sierra Small Business Development Center, is available for FREE small business consulting at the Lassen County Chamber of Commerce Office, the third Wednesday of each month, from 9:00 to 4:00p.m.; the next date he will be available at the Chamber is Wednesday, June 16th. Bring your questions on business and marketing plans, loan assistance, PPP Loans, and CA COVID-19 Grants.  Sign up for FREE one-on-one counseling and FREE webinars and workshops.  Reservations preferred but please also feel free to stop in at your convenience, anytime throughout the day, for assistance with your small business needs. Clint can be reached at (775) 843-4081 or email him at clint.koble@gmail.com.
The Annual Main Cruise Classic Car Show n' Shine will be held on Saturday, June 26, 2021, from 11:00 to 4:00p.m., at Susanville Memorial Park. Food and beverages, vendors, and live music, featuring Forgery, will be available during the event.  Mark your calendar and plan to bring the whole family to view beautiful classic cars, enjoy live music in the park and enjoy a fun filled day. Applications to participate as a vendor or to sign-up to showcase your classic car are available by logging onto the Chamber's website www.lassencountychamber.org. For more information call the Chamber office at 257-4323. Thank you to the following community minded businesses for their sponsorship; Wheels West, NAPA Auto Parts, Diamond Mountain Casino/Hotel, All Seasons Heating and Air, Jackson Service Center, Carlson's Tire Pros, Sierra Tan/The Doghouse, Pregill Insurance, Axia Home Loans, Mandy McGarva, CPA, and Tractor Supply Company.