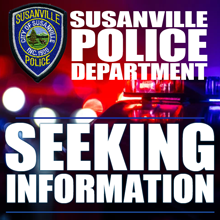 Investigators from the Susanville Police Department are asking for the public's help identifying the suspect in an armed robbery that took place early Friday morning near Burger King on Main Street.
Officers were dispatched around 12:40a.m., and arrived on scene and contacted an employee who reported being robbed at gunpoint after walking out of the business into the parking lot.
According to the store employee a man came out from behind the dumpster, dressed all in black with a black sweatshirt pulled over his head, and wearing a black mask.
The suspect pointed an unknown type of handgun at the employee.
"The employee reported that the suspect demanded their property," explains Susanville Chief of Police Ryan Cochran. "The victim handed over their personal property consisting of a purse and set of keys."
The man was last seen running down Alexander Avenue towards Riverside Drive.
"Officers with the assistance of Deputies from the Lassen County Sheriff's Office canvased the area and did not locate the suspect."
Investigators are combing through surveillance footage and are asking anyone who lives in the area who has security cameras, to check the video in an attempt to identify the suspect.