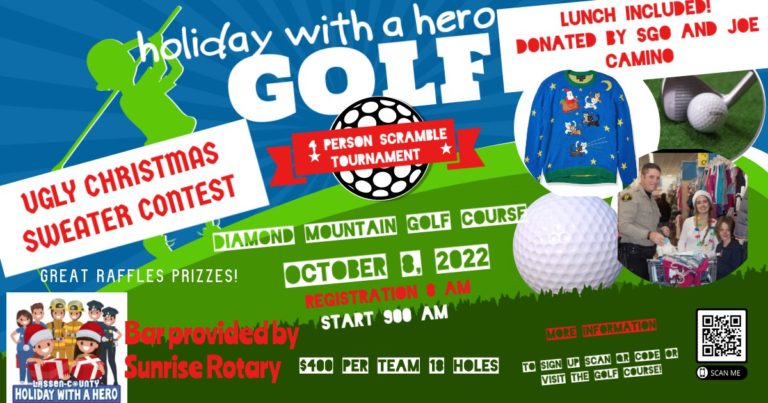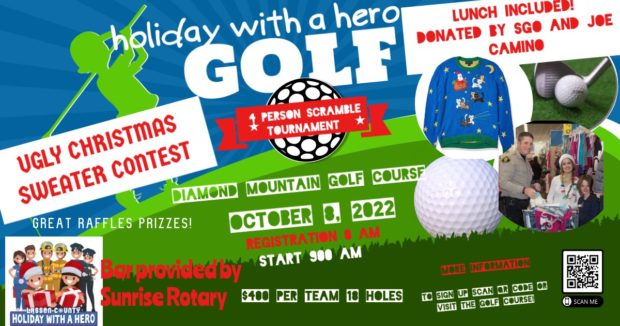 Hurry and get registered! As of press time there were spots left for only two teams!
Want to spend a fun day on the golf course while helping to support a really wonderful organization? The Lassen County Holiday with a Hero program will be hosting a fundraising golf tournament at the Diamond Mountain Golf Course October 8th.
Registration for the 18-hole, four-person scramble, is $400 for each team. Lunch, donated by Joe Camino and Susanville Grocery Outlet, is included in the tournament entry fee.
There will be an Ugly Christmas Sweater Contest, with prizes for the team with the best sweaters, great raffle prizes and the bar will be provided by Susanville Sunrise Rotarians.
No longer focused solely on the Christmas shopping event, money raised at this tournament will all go to support the year-round activities of the Holiday with a Hero program.
"Holiday with a Hero has grown from its start of giving thirty kids a year an enjoyable Christmas experience to now, annually bringing Christmas joy to anywhere from 150 to 175 children," explains Terra Avilla, one of the annual event's organizers.
"However, as our team looked at our mission statement, which is to bridge the gap between our county's youth and its first responders and to help foster better relationships and trust within the littlest and most vulnerable members of our communities, it became apparent, that the first responders love this program just as much if not more than the children."
As the program grew, Avilla said that they realized the huge need in our community for this type of relationship building, and the group is now expanding to year-round events and activities.
"Holiday with a Hero has begun sister programs that treat our young athletes to a fun day of shopping, making sure every child has the sports equipment they need to be safe, and effective at their sport."
"We had a great showing at the fishing derby and are now partnering with Salvation Army to help send kiddos back to school with all the supplies and clothing they need. We realize that having contact with our county's youth year-round, makes us more effective at accomplishing our goal."
"We also recognize the immense need for financial help that so many of our local families have. With the implementation of more activities and attempting to provide more services for our county's children, we need more financial assistance. As a non-profit, we cannot function without the generosity of our community. We are hosting a golf tournament, in what we hope will be a yearly fun tradition for the golfing community. We will have great food, and raffles, and of course the ugly sweater contest, which we know will be a success."
Spaces are limited. Register today by following this link or stop by the Diamond Mountain Golf Course.
Avilla adds, if you would like to assist Holiday with a Hero in its mission but golfing just isn't your forte, tax-deductible donations of raffle items are also greatly appreciated.
Anyone with questions can email terra@justthegirlcop@gmail.com