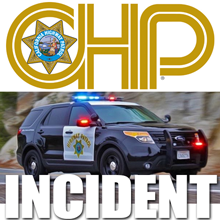 One driver was killed and another sent to Banner Lassen Medical Center with minor injuries Tuesday evening, after a sudden gust of wind overturned a Freightliner box trailer into the oncoming lane of Highway 395, just north of Saddleback Lane, and directly into the path of an oncoming semi-trailer combination.
According to details provided by the Susanville office of the California Highway Patrol, a 2020 Freightliner truck tractor with trailer, driven by a man whose name is still being held pending notification of relatives, was traveling southbound on the highway while at the same time a 2022 Freightliner, driven by 44-year old Bellingham Washington resident Armando Perez Saucedo, was traveling in the opposite direction.
"A sudden strong gust of wind overturned the southbound Freightliner and forced it into the northbound lane directly in front of the northbound Freightliner," explains CHP Public Information Officer Bruce Thuelchassaigne.
"The driver of the southbound Freightliner sustained fatal injuries. The driver of the northbound Freightliner sustained minor injuries and was transported to Banner Lassen Medical Center."
Both big rigs came to rest blocking the highway, and diesel fuel and vehicle fluids were released as a result of the collision. 395 was closed while the vehicles were removed, and the scene was made safe. Traffic was diverted on County Rd A3.
"The CHP would like to remind drivers to use caution and reduce speeds during inclement weather. Drivers of high-profile vehicles should try to find a safe parking location and not drive during high wind advisories as strong localized gusts can occur at any time."