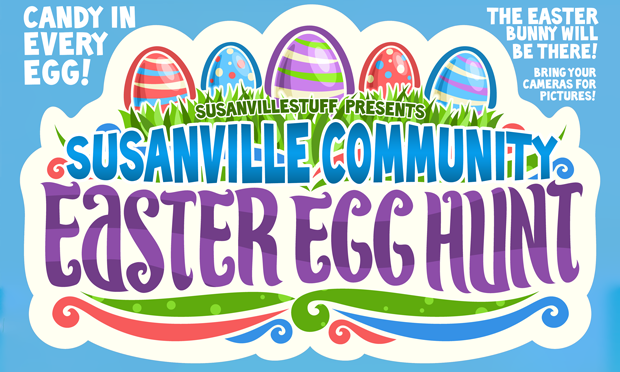 The annual Susanville Community Easter Egg Hunt will be held Saturday, April 11th, at the Lassen County Fairgrounds! All Susanville kids are welcome to come hunt for Easter eggs!
The gates open at 8:30 and groups start at 9:00 with a different age group starting every 10 minutes.
9:00 for Under 2
9:10 for Ages 2 to 4
9:20 for Ages 5 to 7
9:30 for Ages 8 to 10
The Easter Bunny will be at the fairgrounds so bring your cameras for a photo opportunity.
Each age group has a chance to find the 'gold egg' to be turned in for an Easter basket filled with assorted goodies and prizes.
Would you like to be a sponsor of our annual Easter Egg Hunt?
Easter Egg Hunt sponsorships are $250 and each sponsor's name will be included on the printed posters, online marketing and signage at the event. The money you contribute for your sponsorship will be used to help purchase thousands of plastic eggs, oodles of candy, supplies and pizza for our egg-stuffing volunteers.
We are also looking for four, $75 Easter-basket sponsorships for children who find the golden egg in each age group.
If you are interested in sponsoring the event please email Marshel at mcouso@susanvillestuff.com.