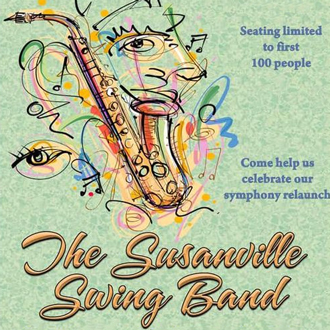 The Susanville Swing Band will resume live performances with a limited-seat event at the Elk's Lodge this Saturday, May 8th, featuring swing music and a tri-tip dinner and tickets are going fast.
"The symphony holds their much awaited return!" said Conductor and Artistic Director Ben Wade. "Our last live concert was February 2020 aside from a few zoom concerts. Patrons and musicians are excited to get back in action."
Only 100-tickets will be sold for the performance. No tickets will be sold at the door, so get yours soon.
"The symphony is as always concerned about the patron's and musician's health," explained Wade. "Appropriate spacing will be instituted and a cap on tickets sold."
Dinner, which is comprised of Greg Sela's famous tri-tip with all the fixings, will be available for an additional cost.
Tickets, which are $30 for the performance, and an optional $20 for dinner, are for sale at Axia Home Loans.
For ticket information call 310-8111.