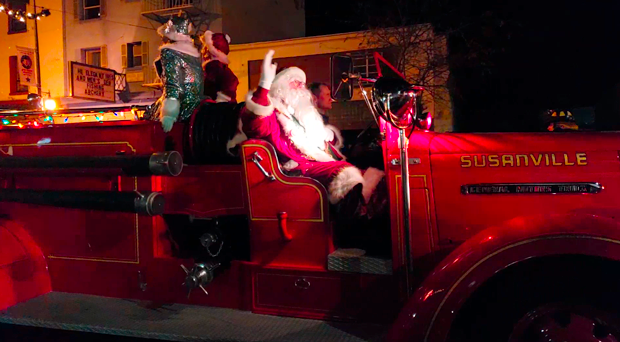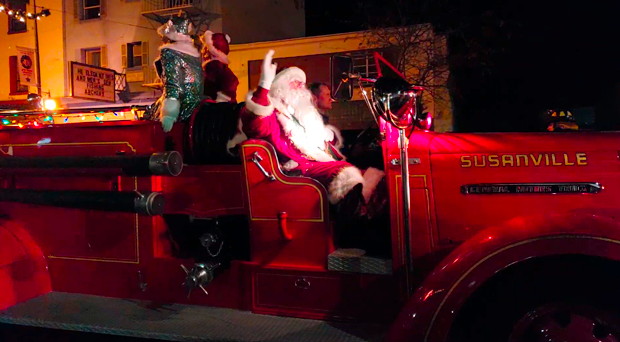 Updated: December 5th
Brought to you by Milwood Florist & Nursery
The Holiday Season is almost upon us and we've put together a list of craft fairs, fireworks, parades, the festival of lights, a holiday concert, and many more fun things. Our list will keep growing through the season so check back often. If you would like to add your group or organization's event, email your flyer and information to submissions@susanvillestuff.com
If you would like to add your group or organizations event, email your flyer and information to submissions@susanvillestuff.com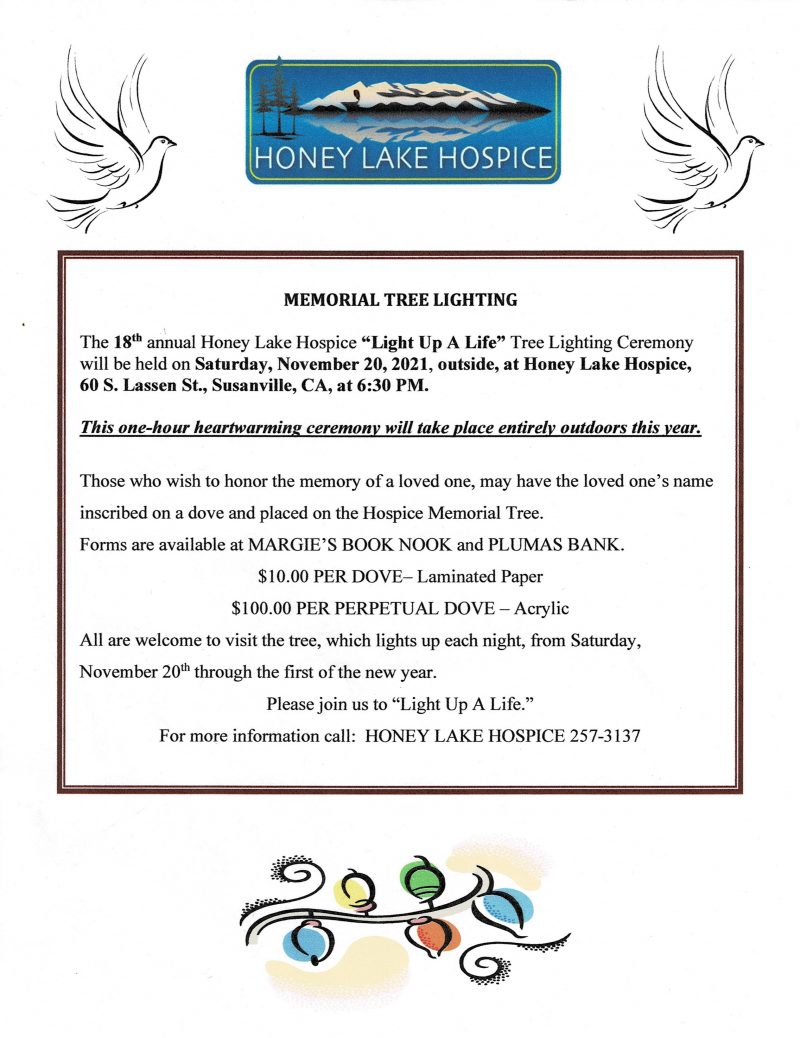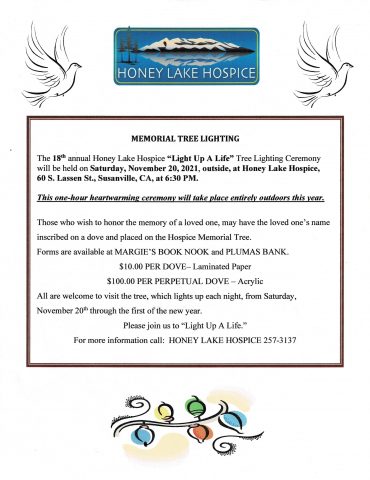 Honey Lake Hospice Memorial Tree Lighting November 20th – January 1
The 18th annual Honey Lake Hospice 'Light Up A Life' Tree Lighting. Those who wish to honor the memory of a loved one, may have the loved one's name inscribed on a dove and placed on the Hospice Memorial Tree. Forms are available at Margie's Book Nook and Plumas Bank.$10.00 Per Dove- Laminated Paper $100.00 per Dove -Acrylic. All are welcome to visit the tree, which lights up each night, from Saturday, November 20th through the first of the new year. For more information call: 530.257.3137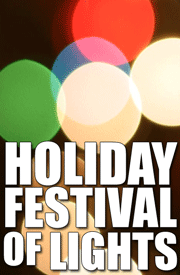 Festival of Lights December 3rd – December 25th
Fridays, Saturdays and Sundays the Lassen County Fair is hosting its 'Holiday Festival of Lights' exhibition at the fairgrounds. The displays are built by different local groups, organizations, and individuals for the public to drive through and 'oooooh and ahhhhhhh' at during the season. The massive display of holiday cheer is also a stop on the annual Senior Light Tour.
Festival of Lights opens on December 3rd. Friday and Saturday gates are open 5:00 – 9:00p.m., and on Sunday, gates are open 5:00 – 8:00p.m. Gates will be open the whole week from Friday, December 17th through the following Saturday, December 25th. The hours for December 24th, Christmas Eve, are 5:00 – 10:00p.m. Please note, Friday, December 3rd and Saturday, December 4th is walk through only, no cars. Drive-thru the fairway and see holiday light displays. Donations are accepted.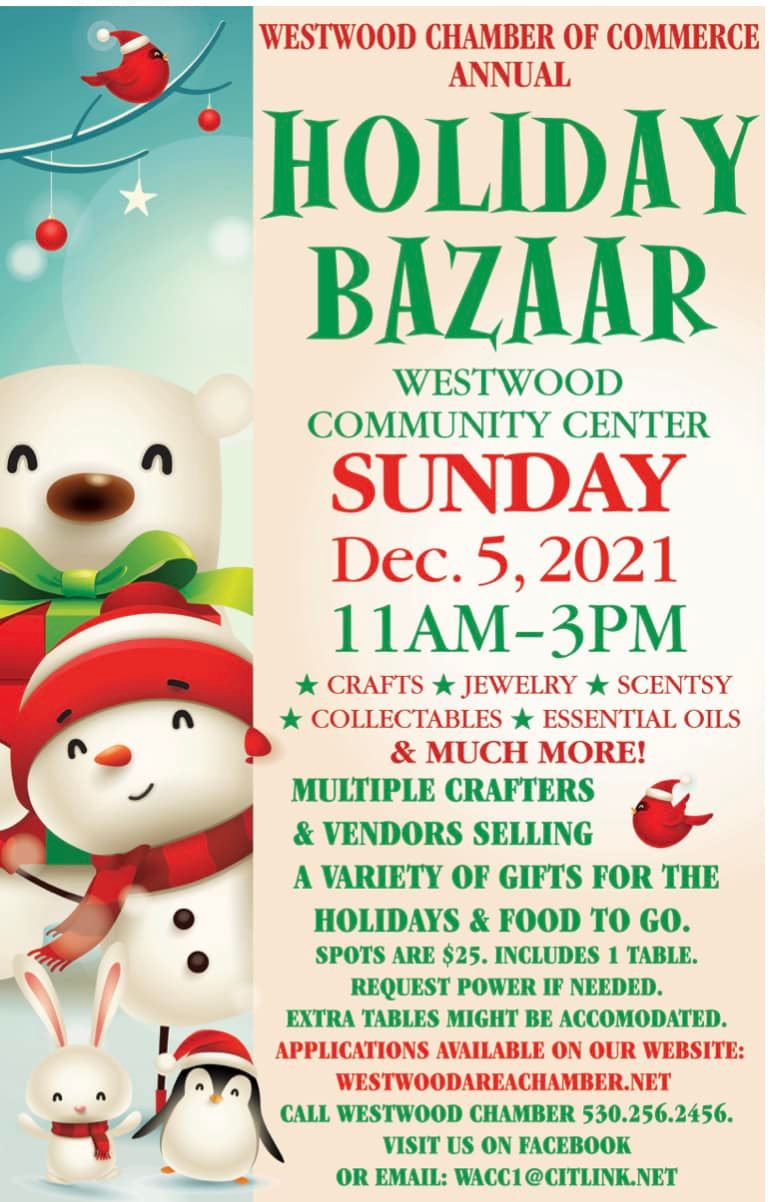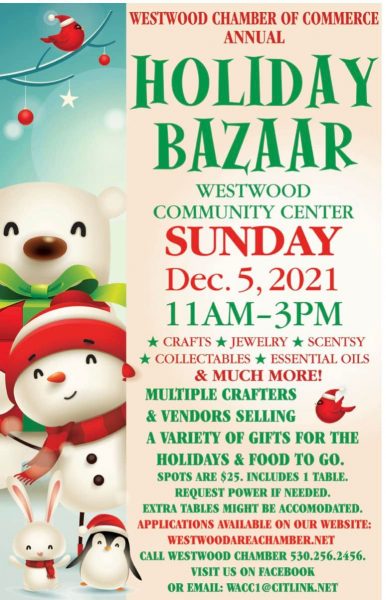 Westwood Chamber of C0mmerce Annual Holiday Bazaar December 5th
Westwood Community Center 11:00 – 3:00p.m. Crafts, jewelry, Scentsy, collectibles, essential oils and much more. A variety of gifts for the holidays and food to go.
Lassen High ASB Winter Carnival December 10th
Lassen High ASB will be putting on a Winter Carnival at 4:00p.m., in the Student Center and Big Gym. There will be food, activities, vendor booths, and a special performance. Contact Rachel Stewart at (530) 257-2141 with any questions or to be a vendor.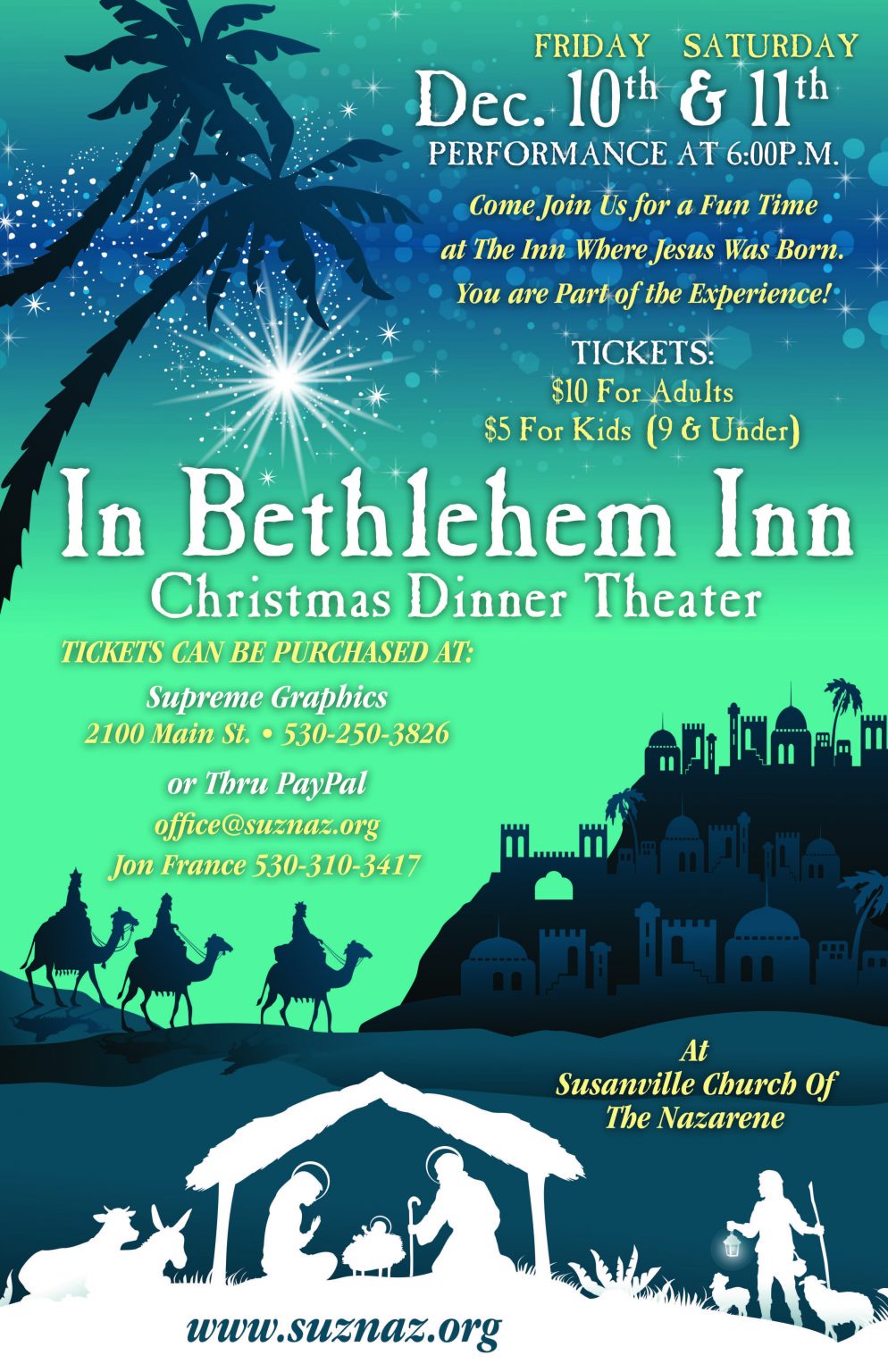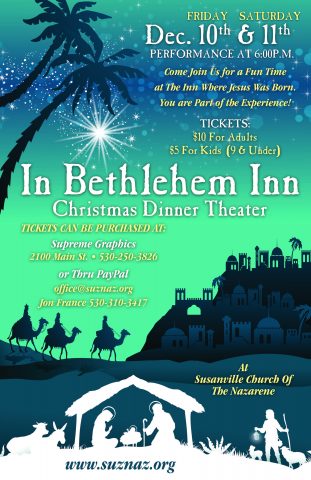 Susanville Church of the Nazarene Dinner Theater December 10th and 11th
Susanville Church of the Nazarene will be offering an interactive dinner theater on December 10 and 11 at 6:00p.m.  It is called 'In Bethlehem Inn'. Tickets are $10 for adults and $5 for kids under 9.  They will be serving a chicken dinner.  It will be at Susanville Church of the Nazarene 1825 Spring Ridge Drive (across from the hospital). Tickets are available at Supreme Graphics or by calling Jon France at 530.310.3417.
Susanville City Kickettes Christmas Extraordinaire December 11th & 12th
The most wonderful show is almost here. Your Susanville City Kickettes Christmas Extraordinaire! December 11th and 12th at the Veterans Hall. At 3:00p.m., there will be a Mini Show with all our tiny dancers and 5:00p.m., will be the Main Show. Tickets are available at Zaengles and Margie's.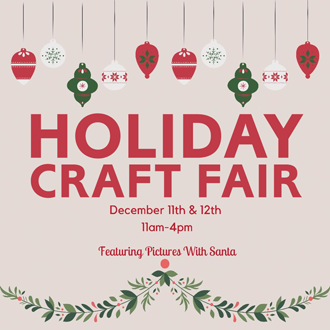 Fairgrounds Holiday Craft Fair December 11th and 12th
The Lassen County Fair's annual Holiday Craft Fair is a huge two-day event featuring everything from hand-crafted wooden toys to homemade maple syrup. It is the perfect place to shop for that hard-to-buy-for person on your Christmas shopping list. Crafters fill up several buildings on the fairgrounds with great gift ideas. Featuring pictures with Santa. The show opens on Saturday, December 11th from 11:00 to 4:00p.m. and on Sunday, December 12th doors will be open from 11:00 to 4:00p.m.
Susanville Auto Center Santa's Village December 17th
Susanville Auto Center presents Santa's Village. Friday, December 17, 2021, from 3:00 – 6:00p.m., located at Susanville Auto Center, 704-485 Richmond Rd E. Susanville. This event includes a visit with Santa, free 4X6 photos, letters to Santa and lots of sweet treats.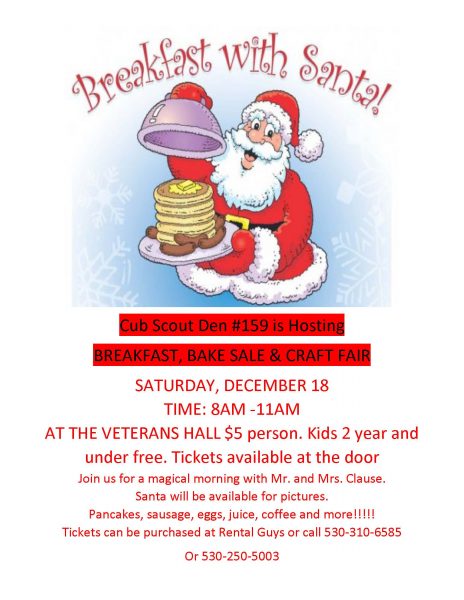 Cub Scouts Hosting Breakfast with Santa December 18th
Cub Scout Den #159 will be holding a Breakfast, Bake Sale and Craft Fair December 18th, featuring a magical morning with Mr. and Mrs. Clause. The event, which begins at 8:00 and ends at 11:00a.m., will be held in the Veterans Memorial Hall on Main Street. Admission is $5 per person and kids two-years old or younger get in free. Tickets will be available at the door. Bring your camera because Santa will be available for pictures. Breakfast includes pancakes, sausage, eggs, juice, coffee and more. Tickets can be purchased at Rental Guys or call 1.530.310.6585 or 1.530.250.5003.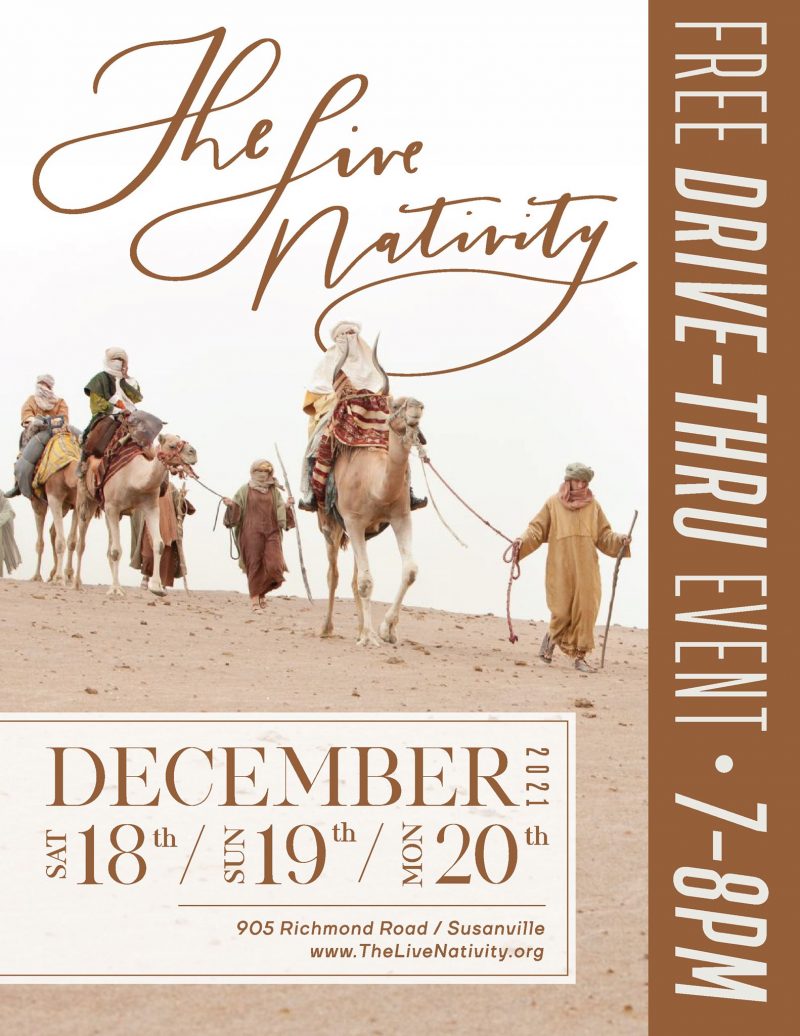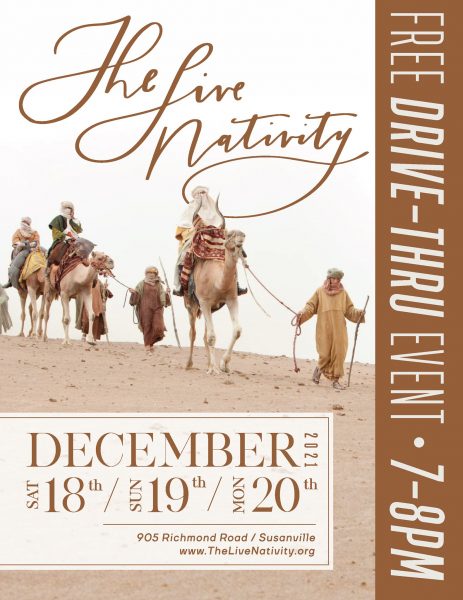 Live Nativity Drive-Thru December 18th thru 20th
This family-friendly, outdoor Live Nativity will run for three nights. Saturday, December 18th through Monday, December 20, 2021 from 7:00 – 8:00pm each evening. Admission to the Live Drive-Thru Nativity is free. You can arrive anytime between 7:00 and 8:00pm. The line will be on Richmond Road and wait times may vary.
This event is open to the public and located on the grounds of The Church of Jesus Christ of Latter-day Saints, 905 Richmond Road, Susanville, CA 96130 – across from Diamond View Middle School. Once you enter the parking lot, be sure to tune in to your radio station to the posted channel and enjoy inspiring music as you make your way through The Live Nativity experience.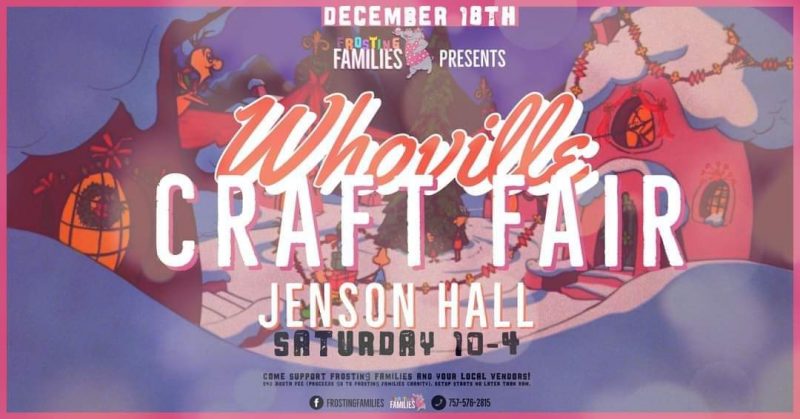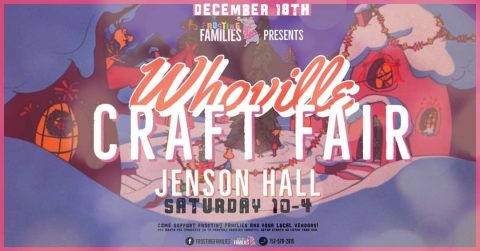 Frosting Families Whoville Craft Fair December 18th
The Frosting Families Whoville craft fair will be held at Jensen Hall on Saturday, December the 18th from 10:00 – 4:00p.m. Come support Frosting Familes and your local vendors.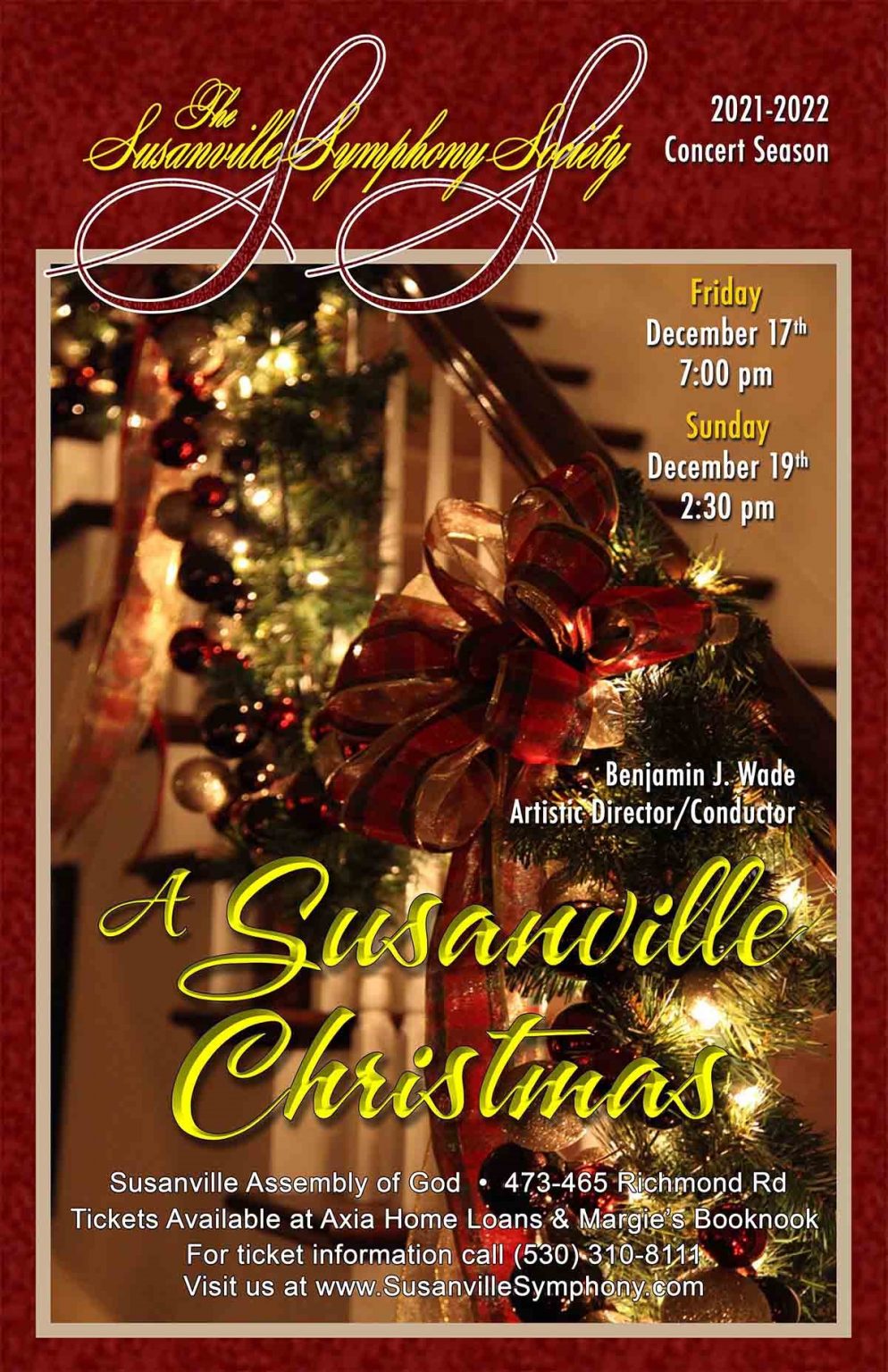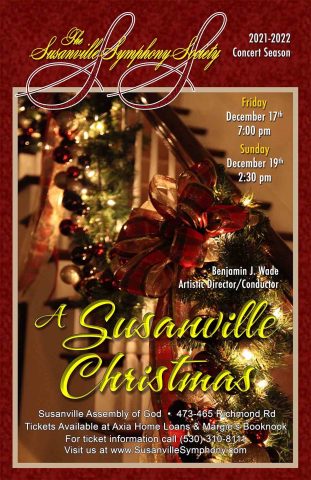 The Susanville Symphony Presents: A Susanville Christmas December 17th and 19th
Audience sing-a-longs, special soloists and more bring you closer to your family and to the holiday spirit that encapsulates this beautiful area we live in. Friday, December 17th at 7:00p.m. and Sunday, December 19th at 2:30 p.m., at the Assembly of God Church. Tickets will be available at Axia Home Loans and Margie's Book Nook.
If you would like to add your group or organizations event to our list, please email your flyer and information to submissions@susanvillestuff.com