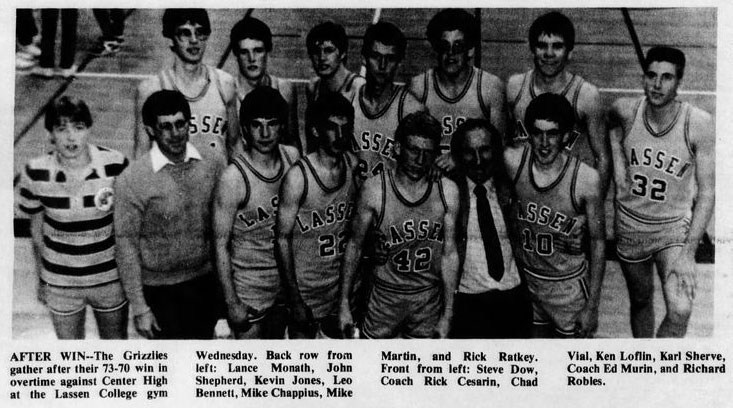 by Shelley Bennett
With the Lady Grizz winning a section title and advancing to the state playoffs, memories of another team who won sections thirty five years ago came back to me.
The year was 1988 and I was a senior. The boys basketball team had a middle-of-the-road season, finishing with either a 5-5 or 6-4 record. Memories are a little shaky on that. But CIF had re-worked the playoff system, and they were headed to the first round, and I was a varsity cheerleader, so I got to tag along.
This team was made up of some of my best friends – Kevin Jones, Mike Martin, Karl Sherve, Mike Chappius – guys who I had known my whole life and a new one who I was a little interested in, Leo Bennett.
The rest of the team was made up of seniors Richard Robles, Lance Monath, Rick Ratkey and juniors John Shepherd, Steve Dow, Kenny Loflin and Chad Vial.
It was a bit demoralizing because our guys were seeded lower than Quincy and had to make the trip over on a Friday night. Led by 22 points from Kevin Jones, the Grizzlies were victorious 67-58 and went on to beat Anderson in the next round 62-56.
Next stop was the section championship against number one seed Orland. Despite the intimidating setting of the Chico State gym and Orland jumping out with a quick lead, the Grizzlies battled back and settled in.
In an article from the local newspaper, sports writer Becky Shepherd (now Terwilliger) noted the back and forth scoring of the two teams, "Orland brought the score to a tie in the fourth quarter at 56, and then again at 58 and 60." The Grizzlies were victorious 73-69 with some key free throws putting them in the lead for good.
Finally, this Grizzly team earned the respect they deserved. Coach Ed Murin was quick to give credit to his players, saying, "I'm just so happy for those kids, every one of them." I'll never forgot seeing the looks on my friends' faces. We all rushed the court to hug, high five, and celebrate before the boys received their awards.
The first state playoff game was one for the history books. The Grizzlies took on Center High School out of Sacramento. Their center, Rich Manning, had been heavily recruited and later played college ball at Syracuse.
The LCC gym was packed and the game was intense from the very start. The lead went back and forth and was tied at the end of regulation. Somehow, again details and memory are not as sharp as they once were, Lassen came out on top 73-70.
Kevin Jones says he nailed three threes in a row to tie it before OT, while Mike Martin remembers Kevin being in foul trouble and sitting. Either way, it was a win and the Grizzlies advanced to the second round.
On a Friday, we loaded the Suburbans and Coach Murin's motorhome and drove to Terra Linda high school in San Rafael. Nobody really remembers what happened there, except that we lost. But what followed was a great team dinner and a trip to Great America where Coach Murin and his wife MaryAnn were so kind and welcoming and made us feel like family.
Looking back Kevin Jones remembers, "[We were a] really close group of great guys. Had to go on the road through the section because we were under ranked." They were the first team to win a state play off game, followed thirty years later by another special team (that my son Jacob was on) in 2018.
Mike Martin recalls, "I remember an average team as it relates to basketball ability, but an above average group of guys as it relates to teamwork, work ethic, grit, and the willingness to do whatever it took for each other." It brought our school and community together and the team was supported by many different people and places.
The didn't get rings, or even a t-shirt to commemorate their place in LHS history. Kevin says, "I think someone brought it up, but it wasn't something we all hung on." The friendships they came away with were much more than that. This team was special.

Mike says, "I still use that team as an example of what can be done when you come together as a team and do whatever it takes for each other."
Thirty-five years later these men have carried on the success that started on the basketball court into their communities. They are husbands, fathers, educators, business owners, and volunteers. There's a principal, former police chief, school superintendent, and a lawyer in that group. And many coaches.
Rich, Kevin, Leo, Mike C., John, and Mike M. have all coached at the high school and even college level, sharing their basketball IQ with many players over the years. And this cheerleader couldn't be more proud of her childhood friends and the one who became her husband.
---
Remember when news was 'newsy'? When you read about weddings, family events and engagement announcements in the newspaper? If you have something that might be newsworthy, please submit it to shelleybennett24@gmail.com and I'll do my best to include it here in "The Good Stuff."