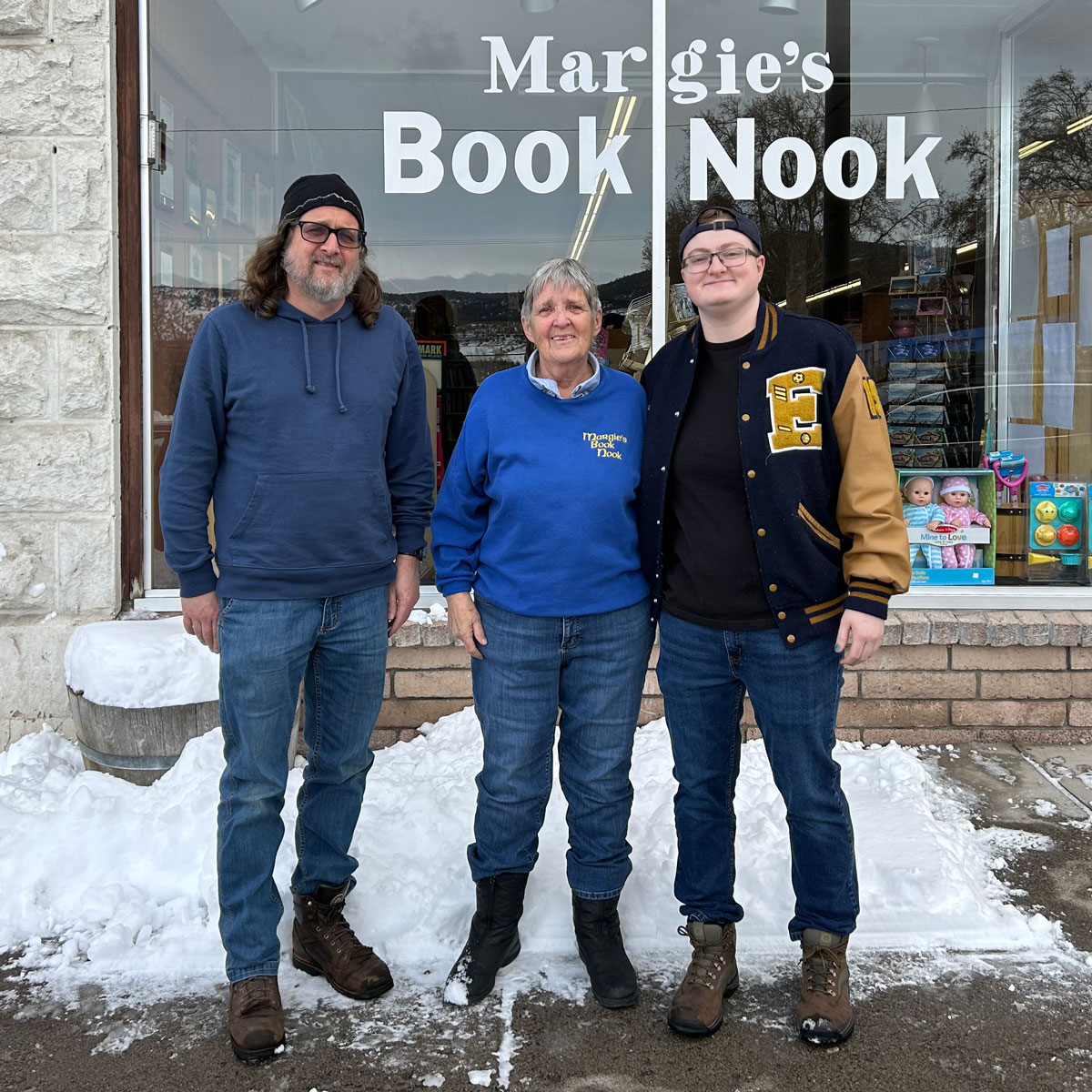 by Shelley Bennett
As a kid I loved going to the library. Every other week, my mom would take Casey and I up to the public library and as soon as I smelled the scent of old books, I felt like I was home.
We would load up a box of our choices and take them home to start reading.
Imagine my surprise when I discovered that you could get the same feeling at our local bookstore, Margie's Book Nook. AND you got to keep the books.
I would spend hours walking around, looking at the shelves, picking up books, examining the front (I am one of those people who does judge books by their covers), reading the blurbs on the back, and deciding if that title would be going home with me or not.
I still do that. After a quick hello to Margie (or David, Zane, or Shelby), I can get lost for at least hour while I peruse my favorite aisles.
I start with the new arrivals section at the front of the store, sometimes it's outside if the weather is good. I love when someone else splurges on a new book so I can read it at a discount. It's here that I satisfied my Game of Thrones obsession in the summer of 2018.
Then I go to the back where the more contemporary books are. I can usually find 2-3 titles that are on my "to-be-read" list. My list is arbitrary, since you never know what treasure you will unearth at Margie's. Many times you don't choose the books, they choose you.
Then I journey into the "horror" room to see if there are any Stephen King titles I haven't read.
Next is true crime where I look for Anne Rule and any others I recognize from the headlines. Then I glance around at young adult, cookbooks, and anything else that catches my eye.
When I found out that Margie's is celebrating being open for 40 years I knew I had to stop by and chat with the three generations who keep it open and running. Margie, the matriarch, told me how she bought the book store when it was in a tiny 300 square-foot building on North Lassen Street.
She laughingly recalled how customers would lean over to pick out a history book while knocking over a stack of classics. It was clear the book store needed a bigger place, so around 1985, the Teeters found an empty building on North Gay.
As they packed up one Sunday, David pulled a prank on twin brother Daniel and friend Jason Fitchum by locking them in the store. The boys didn't realize the shopkeeper's lock wouldn't allow them to open the door from the inside. When David tried to unlock and open it from the outside, the key broke in the lock.
Luckily a call to Chick Walker, local locksmith, saved the day and Chick even stayed to help them move a few boxes.
That space became too small in about ten years and the Teeters moved to their present storefront on Main Street.
Margie has always loved to read, especially mysteries, and says that every time she comes into work she finds a book that she has to have. Her favorites include France Hodgson Burnett's The Secret Garden and Dandelion Wine by Ray Bradbury. She spoke about the great descriptions and how they captured her imagination.
David jokingly says that "you aren't educated" if you haven't read Lord of the Rings. Shelby also likes the fantasy genre and is into "anything Brandon Sanderson" right now.
Granddaughter Shelby says that BookTok is responsible for setting trends in reading, including the popularity of author Colleen Hoover.
We agreed that Hoover isn't our favorite, but reading is reading!
While the book business has changed over the years, with many people reading e-books or ordering online, the Teeters are back to basics: selling used books to our community. They appreciate their loyal customers who have supported them throughout the years.
In addition to books, they have also been responsible for creating traditions in uptown Susanville. Margie was one of the founders of HUSA and as a result was an original organizer of Safe and Sane Halloween and Magical Country Christmas, two events that have become Lassen County mainstays.
Margie was also instrumental in the building of Pancera Plaza, with David leading the renovation years later. Shelby is the manager of the Farmer's Market and tells me that there are five evening markets planned for this summer!
Margie's is also Susanville's unofficial "Ticketmaster". They happily sell tickets to local events like Best of Broadway, the Symphony, J&J productions, and The Nutcracker without a service charge. In fact, while I was there several tickets for BOB flew out the door.
The party starts on April 1st. The Teeters are still working on the details, but want everyone to know that it's just the first of many celebrations. They plan to commemorate this anniversary all year long with many festivities.
There's a Where's Waldo party in the works, one for the Harry Potter fans, and another with a local history theme.
Happy Birthday to Margie's Book Nook! Thanks for giving this reader a home.
---
Remember when news was 'newsy'? When you read about weddings, family events and engagement announcements in the newspaper? If you have something that might be newsworthy, please submit it to shelleybennett24@gmail.com and I'll do my best to include it here in "The Good Stuff."