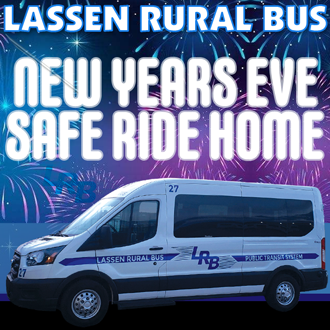 Starting December 31st, at 8:00p.m., Lassen Rural Bus will offer a free shuttle within the City of Susanville and surrounding areas, including the Johnstonville and Richmond Road areas.
LRB wants to make sure that everyone in Susanville can have a safe New Year's celebration.
There is no charge for the shuttle, and you can get to and from your celebration at a friend's house or public parties around town.
You can book your trip through the "Ride Pingo" App, which is available for free through google play store or the Apple App store or call 530-252-7433.
The bus will also pick you up if you wave the driver down at a safe location.
Stay safe and take advantage of leaving your car home and while letting LRB take you safely where you need to go at no charge. The bus will be available until 2:30a.m. on January 1st.
For more information visit www.lassentransportation.com. The shuttle can be reserved ahead of time or on New Year's Eve by calling LRB.