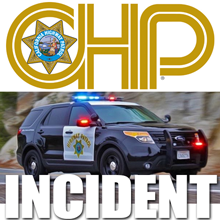 Chaos unfolded on US-395 last Friday as a truck tractor and trailer crashed into a series of vehicles just south of County Road A25, sending two people to the hospital with their injuries.
According to a report from the Susanville office of the California Highway Patrol, shortly after noon on May 19th, 26-year-old Red Bluff resident Austin Levindofske was driving a 2018 Peterbuilt truck tractor and trailer combination northbound on the highway.
As he approached other vehicles that were stopped ahead of him Levindofske failed to safely slow his truck, and subsequently crashed into the rear of a Dodge Ram driven by 26-year-old Cedar City, California resident Sara Welby.
The Dodge Ram was pushed forward and crashed into the rear of a Ford F150 driven by 39-year-old Sparks, Nevada resident Amarie Ward. The F150 was shoved off the right shoulder of the roadway.
"Levindofske's Peterbuilt continued north and veered to the left into the southbound lane of US-395," explains Susanville CHP spokesperson, Officer Brian Elledge.
"The Peterbuilt's trailer crashed into the rear of a Subaru Outback driven by Matthew Beccaria. The crash caused the Subaru to travel forward and collide with the rear of a Hyundai Sonata driven by Mindy Damon."
Welby was transported to Renown Medical Center in Reno. Amarie Ward was transported to Banner Lassen Medical Center in Susanville.
According to the report, alcohol and drugs were not contributing factors in this crash and the incident is still under investigation by the CHP.