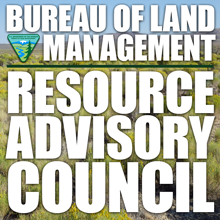 The Bureau of Land Management Northern California Resource Advisory Council will hold an informational session via Zoom this Thursday, May 25th, from 9:00a.m. until noon.
The virtual session replaces a field tour and business meeting that had been planned for Arcata.
Council members will hear reports on development of the Northwest California Integrated Resource Management Plan, other ongoing land use plans, completed land acquisitions, and the BLM's proposed Public Lands Rule.
Managers of the BLM Applegate, Arcata, Eagle Lake and Redding field offices will update the council on key activities in their areas.
Members of the public can join the meeting at this Zoom link.
The council will hear public comments at 11:30a.m.
The Resource Advisory Council works closely with the BLM's northern California offices, providing advice on the BLM's land and resource management mission. Members represent diverse interests including livestock grazing, recreation, off highway vehicle use, wild horse and burro management, environmental interests, Tribal interests, state agencies with natural resources interests, local government and the public at large.
The Northern California Resource Advisory Council meeting agenda can be reviewed online. More information is available from BLM Public Affairs Officer Jeff Fontana at 530-260-0189, or via email at jfontana@blm.gov.