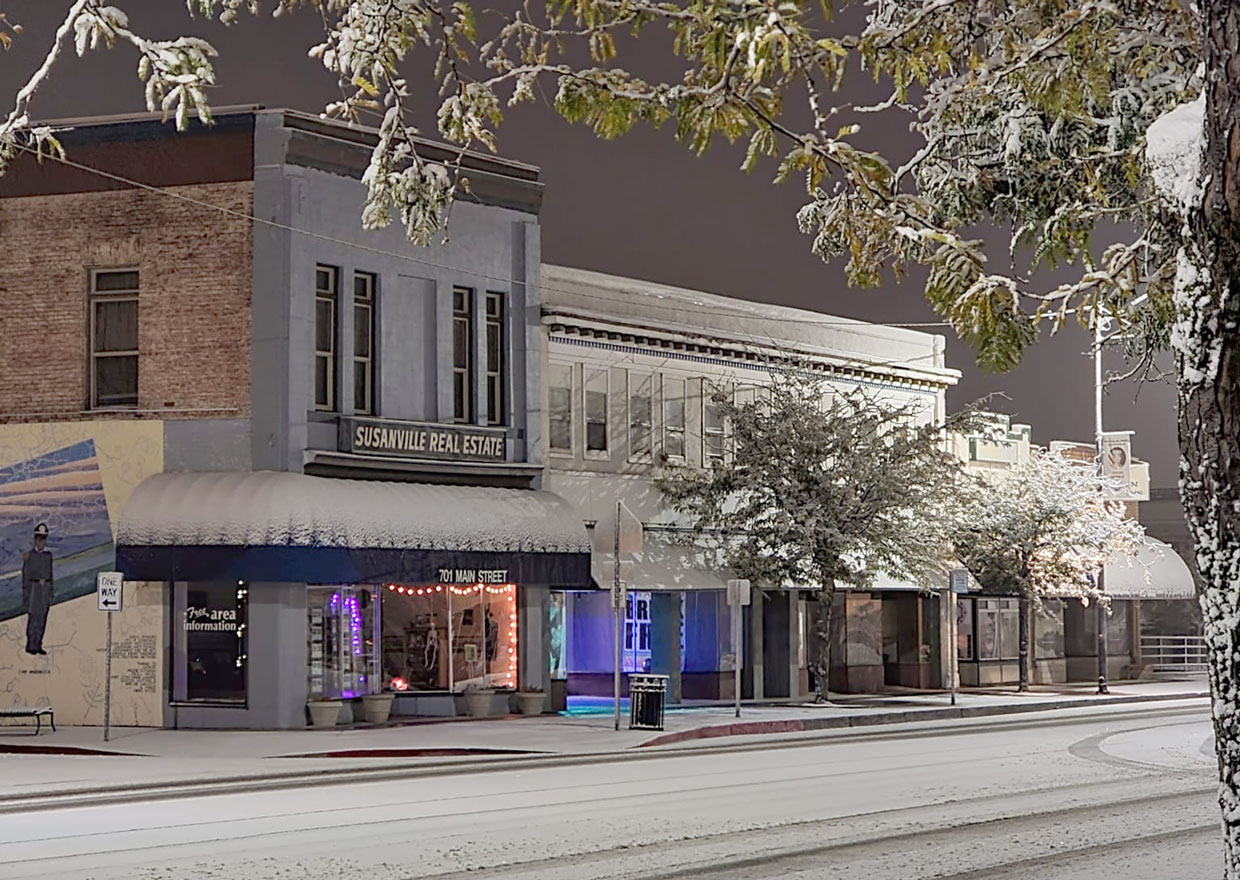 by Jeremy Couso
SusanvilleStuff Editor and Publisher
It is Veterans Day, a day where we honor all current and former members of our Armed Services. The greatness of our country, and our freedom, is built on the firm foundation of their courage and sacrifice.
Thank you. Thank you for your service to our country. Thank you to those that have the courage to do things that not all of us can. I owe you.
Winter? Already?
Winter arrived in Susanville with a mighty ker-splunk this week, bringing with it heavy, wet snow that stuck around for about a day before quickly melting into a slushy, muddy, goopy mess.
Then the clouds broke, and it all froze solid. We all know what they say about the weather in Susanville…
The storm was hard on trees around town. The heavy snow came so much earlier in the season than normal, and a lot of trees still had their full complement of leaves, so the white stuff clung to the foliage, creating weights that were impossible for the branches to bear.
Branches snapped and fell throughout Susanville, and friends in the valley tell me that Janesville and Milford suffered the same arboreal fate.
I absolutely love winter in Susanville – until about December – every year. After that I'm ready for Spring again.
Hey, Did You Hear? Somebody Won the Lottery
There are few things that capture the attention and imaginations of Susanville folks like finding out someone in town just won the lottery! I have seen news of forest fires take longer to spread than the word that someone bought a winning lotto ticket at Susanville Supermarket last week.
I think within minutes of the numbers being drawn the news had gone 'local viral' and everybody was wondering just who had drawn 5 out of 6 numbers in the big Powerball thingy.
Susanville started getting mentioned in news stories all over the country on Monday, as headlines screamed out that some lucky local resident was, "one number short of the $1.6 billion jackpot."
Which, if you ask me, is kind of a glass-half-empty summation of the whole situation. After all, they won a million, but have to keep reading stories about how they were one number away from a billion.
Who is it? Do we know them? Are we related? The whole town was abuzz for several days with people talking about the amount of the prize and what they would do with the money if they won.
Hurray the election is over!
Just a public service reminder that Susanville municipal code 17.128.160, covering temporary noncommercial signs, says that all of these political signs around town, "shall be removed no later than ninety (90) days after it is erected, or ten (10) days following the date of the event, campaign, promotion, election or other activity to which the sign pertains, whichever first occurs."
Veterans Day Parade
Susanville always has an amazing Veterans Day Parade, and this year looks to be no exception. The parade will start at the fairgrounds at 11:00 and go up Main Street to the Veterans Hall, where there will be a short program and lunch.
The parade rivals the annual Fair Parade in size, and features lots of local folks and organizations paying tribute to our veterans. It is one of those Susanville events that we love to take pictures of each year and Marshel, and I will be there with our cameras. We'll have a big gallery of photos for you next week.
Assembly of God Thanksgiving
Here is something cool you can do! If you shop at Susanville Supermarket and you have extra 'Turkey Bucks' that you are not going to use this year, how about you send them to James and Ronda Hall at the Assembly of God Church?
They use the Turkey Bucks to buy turkeys for the church's free Thanksgiving Dinner and they could always use some more. A LOT more. Like, send them all you have. 🙂
You can mail your extra Turkey Bucks to the church at 473-465 Richmond Road or drop them off with Ronda Hall at Public Health. It's a really wonderful thing they do at the church each Thanksgiving and even a few extra Turkey Bucks will help a lot.
Have a terrific weekend everybody!