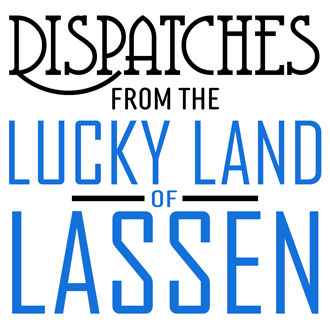 By Jeremy Couso
SusanvilleStuff Publisher and Editor
Friday Photo Trivia Time!
This is a photo of Susanville's Main Street taken in the early 1940's. It is from the Eastman Collection at UC Davis and the view from the same spot looks surprisingly different today.
If you can correctly identify the intersection in the photo, you could win a cool SusanvilleStuff coffee mug!
We'll draw a name from all the correct answers and announce the winner right here in Dispatches next Friday. Use our handy form to submit your answer.
Your one hint is: One of the buildings in the photo is still standing.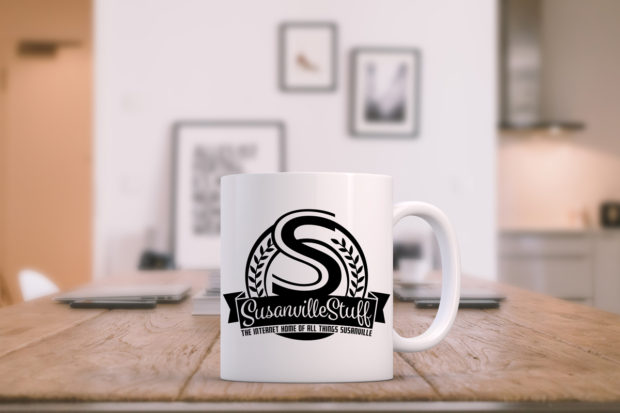 Happy Friday boys and girls! For those of you keeping track, today is only the 31st day of Winter and there are still 59 long days left until Spring.
In Susanville this week it certainly feels like we are in the deep dark recesses of winter. Bitter cold in the mornings, with everything frozen and covered in this icy, crusty layer of repeatedly melted, and then refrozen snow. I hear Arizona is nice this time of year. I could telecommute!
Susan Day (Not Susan Dey)
I was doing some research for a project last week and came across a newspaper article about a big community event that I had completely forgotten about, but one that was a tremendous success, and we should do it again sometime.
Way back in June of 2000, as part of the City of Susanville's Centennial Celebration, the Historic Uptown Susanville Association held "Susan's Birthday Party" where everybody in the world named Susan, or Sue, or Suzy, or Suzanne, or Susanna was invited to come to town.
It was great fun. Merchants offered specials to anyone named Susan, a giant cake was served, there were activities in the park and prizes for the Susan who traveled the furthest.
I remember it being quite an event and according to a newspaper article it got coverage in the national and international media, including the BBC, and hundreds of Susans came from as far away as Florida.
It's a very cool concept from a marketing standpoint because there is only one other Susanville in the country, and it is just a ghost town in Oregon, so we have a lock on the name. We can be every Susan's special town.
Margie Teeter, from Margie's Book Nook, should be credited for coming up with the idea, which I think was pretty darn clever.
This odd notice appeared in the September 28th, 1884 issue of the Brooklyn Eagle:
A Bear Which Appreciates the Good
"A man at Susanville, Calif., keeps a pet bear, which the other day got out of his cage and hugged the sixteen-year-old daughter of his owner so sublimely that now there isn't a young man within thirty miles of that county she would give a straw to spend a starry evening with."
I don't know what that means. I have some thoughts though. Sometimes, when I read these articles from a century ago that seem so strange, I think about the fact that in one hundred years the stuff we do today will seem pretty bizarre as well.
For example – this year's Winterfest theme at Lassen High School is 'Lettuce Celebrate' and each day of Spirit Week the students are dressing as… um, dressing. Monday is 1000 Island Day, Tuesday is Bleu Cheese, Thursday is Balsamic Vinaigrette. You get the idea.
Now let's try to explain that to someone reading a Lassen High yearbook in the year 2123.
Dayne Webb
Sadly, I have to report that longtime friend and all-around wonderful person Dayne Webb has died and left a giant void in this world. Dayne and her husband Cec owned KSUE radio for two decades, retiring around 1991 after successfully adding a second radio station and greatly expanding their business. They were amazing people who did a lot for this town during their time here.
I started working for the Webb's back in 1985, just a high school kid who, for some reason, wanted to work in radio, and they graciously allowed me to make that a reality. Dayne never seemed to mind me hanging around the radio station and always encouraged me to learn everything I could while I worked for them.
She was truly a unique individual, and she will be missed. From a very personal perspective I can tell you that SusanvilleStuff and the work we do here every day wouldn't exist if it were not for the things I was taught by Cec and Dayne. They are who I learned all of this from.
Our sincere sympathy goes out to Dayne's family. Services will be held in the Spring.
That's about it for this week! Hope you all have a fantastic weekend and be careful out there in the cold.