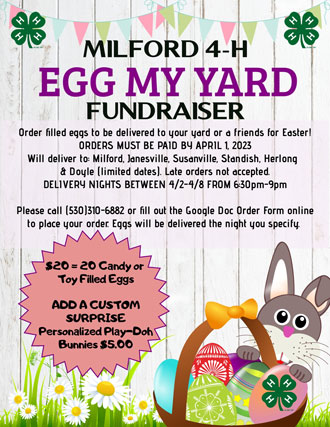 Its time for Milford 4H's third annual 'Egg My Yard' fundraiser, where, for just $20, you can 'egg' your yard, or a friend's, with twenty candy and toy-filled eggs!
New for this year, Milford 4H is offering personalized Play-Doh Easter Bunnies for only $5 each.
You must pay for the orders before April 1st and deliveries can be made any night of your choice, from April 2nd to April 8th between 6:30 and 9:00p.m.
There is no limit, you can order as many sets as you need.
Eggs can be delivered to Milford, Janesville, Susanville, Standish, Herlong and Doyle.
Click on this link to place your order or call 1.530.310.6882.
All funds raised from this fundraiser support Milford 4-H activities and the community service projects that the club works on throughout the year.
The saying will be chosen at random but they will try to accommodate special requests.
Sayings:
Have a DOH-RIFFIC Easter!
Wishing you a WON-DOH-FUL Easter!
Some Bunny DOH-TALLY loves you!
DOH WORRY, BE HOPPY!
Hope you have DOH BEST Easter!
There's DOH-BUNNY like you!