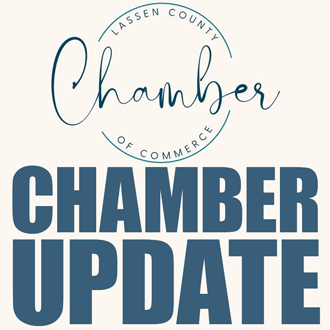 Kelly Ackley,
Chamber Executive Director
The arrival of summer means the return of the Susanville Farmer's Market on Pancera Plaza in Historic Uptown Susanville. The market is held each Saturday, from 8:00 to 12:00p.m., thru October 1st.
This year Wednesday evening markets have been scheduled. The market will feature fresh produce, meats, local crafts, delicious food, and more. The organizers of the market are planning to bring even more vendors and excitement to this year's market so be sure to add the farmer's market to your Saturday and see what they have to offer. For more information or to become a vendor, contact farmersmarket@larpcooperative.com.
Shine, a youth inspired outreach will be hosting a Grand Opening at Memorial Park, Tuesday, June 21st from 5:00 – 8:00p.m. There will be skate lessons, 4 barbers volunteering for free haircuts, worship music, food vendors and much more! For more information, visit their website www.ShineSusanville.org.
Lassen County Chamber of Commerce is partnering with Diamond Mountain Casino and Hotel for the Annual Main Cruise Event. Join us Friday, June 24th from 5:00 – 8:00p.m., at DMCAH for a Meet & Greet, viewing classic cars, and enjoying live entertainment, food, and drinks. Saturday, June 25th from 11:00 – 4:00p.m., at Memorial Park will feature our Main Cruise Main Event with cars, cars, cars, vendors, food, drinks, live music by Forgery and the Main Cruise to follow. We are still accepting vendor applications and car entries, forms can be found on our website, www.lassencountychamber.org, or in the office at 1516 Main Street. For more information, call 530.257.4323.
Get ready for this year's first Wednesday Night Market, brought to you by LARP! Wednesday, June 29th from 5:00 – 8:00p.m. The market will feature fresh produce, meats, local crafts, delicious food, and more. HUSA will also be hosting a beer garden for patrons 21 and over, and live entertainment by the band, Timeless! For more information or to become a vendor, contact farmersmarket@larpcooperative.com.
Mark your calendars for the 13th Annual SIR Pow Wow, June 24th thru June 26th at Lassen Community College. Dry camping will be available. Special guests include Headwoman Violet Olney, Headman Caley Ouray Pratt/Can't see, and Host Drum Sharp Shooters Singers. To be a vendor or for more information, contact Aaron Brazzanovich at 530.310.3381 or Amelia Luna at 530.249.7192.
Lassen County Fair brings to you the 12th Annual Susanville Bluegrass Festival from June 24th thru June 16th. The festival will offer an array of musicians, workshops, a quilt room, vendors of all sorts and camping! Visit www.lassencountyfair.org/bluegrass to purchase tickets or for more information, contact 530.251.8900.
Plumas Arts presents the 51st Anniversary Almanor Art Show! Saturday, June 25th from 10:00 – 5:00p.m., and Sunday, June 26th from 10:00 – 4:00p.m., on the Collins Pine Lawn in Chester. For more information, contact Jennifer at 530.283.3402.
Paws for Effect and Grace for the Voiceless are hosting a Mother and Daughter Kitten Tea Party at Paws for Effect in Uptown Susanville on Sunday, June 26th at 2:00p.m. Prices are $40 for a mother-daughter combo and $25 for a single ticket. For more information, please contact Hannah at 530.257.4499.
Nature Camp Registration is Open! This camp is brought to you by Lassen Land and Trails Trust, providing an opportunity for kids to explore nature and wonder outside their own backyard. There will be two sessions: Session 1 July 25-29, for kids 8-10 years old and Session 2 August 1-5 for kids 10-12 years old. This is first come first served so register now! Learn more at http://lassenlandandtrailstrust.org/nature-camp, or pick up a brochure on the kiosk in front of the Depot.
The Westwood Area Chamber of Commerce is getting ready for its big, annual Paul Bunyan Mountain and Blues Festival. Friday night 8:00 – 11:00p.m. at the Westwood Visitors Center enjoy live music by Forgery, then on Saturday, July 2nd, check out everything the festival has to offer, like a logging show, parade, fun run, antiques, crafts, kid's area, Blue Ox Bingo and more! For more information, contact 530.256.2456.and much, much more! The activities begin at 8:00a.m. in the Community Center with breakfast and a fun run. The Festival Gates at the Westwood Park open at 11:00a.m. immediately following the parade.
The High Desert Charity Golf Tournament is scheduled for Saturday, July 2nd at Diamond Mountain Golf Course. This will be a 4-person scramble, 18 holes, tee prizes and much more! Check in starts at 7:30a.m. with a shotgun start at 9:00a.m.; the team fee is $400 or $100 per player. Proceeds will be used for donations to local Lassen County charities as well as HDSP staff-centered events.  For more information, contact Jolene at 530.251.5100 ext. 5526 or Jolene.speers@cdcr.ca.gov
Don't forget to email director@lassencountychamber.org with any upcoming event or swing by the Chamber Office at 1516 Main Street with any event posters.