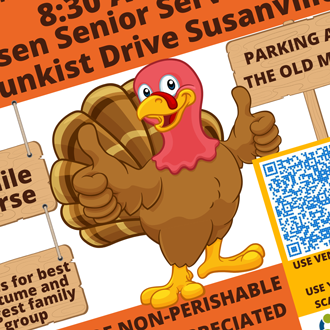 Start working off Thanksgiving dinner a little early and help a great local organization as Lassen Senior Services hosts their 9th Annual Thanksgiving Day Turkey Trot this morning, November 24th.
Families and children are encouraged to participate in this fun 3.1-mile race which will begin promptly at 8:30a.m. at Lassen Senior Services on Sunkist Drive in Susanville.
There is no cost to enter, however, participants are asked to bring a non-perishable food item or cash donation for LSS.
"It's really a wonderful way to start the day, as you are invigorated prior to the day's activities," says LSS Executive Director Penny Artz. "Non-perishable, and non-expired food and funds donations help Lassen Senior Services continue our remarkable program."
Participants will be starting at the Senior Center, running over to Limoniera, taking Limoniera to Riverside, Riverside to Alexander and down to the bike path and back.
There will be prizes for best costume and largest family group.
To be a part of the fun Thanksgiving morning event you must download and complete the waiver and bring it with you. Click here to download the waiver.