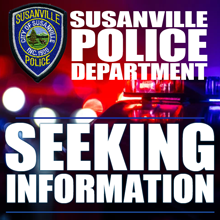 Investigators from the Susanville Police Department are looking into the death of a Susanville man who was found unresponsive early Saturday morning after his vehicle crashed in a small ravine along the Skyline Extension north of town.
According to details provided by the department, at about 6:40a.m., officers were dispatched to the area of the Skyline Extension, east of Highway 139, after receiving a collision activation from a vehicle.
"While in the area," explains Chief of Police Ryan Cochran, "officers located a vehicle on its side which had driven off the roadway into a small ravine."
Officers requested medical respond to the accident and an officer made their way down to the vehicle in an attempt to contact the driver, who was still inside.
"Once members of the Susanville Fire Department and Paramedics arrived on scene, the driver was removed from the vehicle. Paramedics checked the driver who was declared deceased at the scene."
The driver was identified by the SPD as 29-year-old Susanville resident Gustavo Aguirre-Cases.
According to Cochran, the cause of the accident is still under investigation and results from the Washoe County Medical Examiner are still pending.
If anyone witnessed this accident you are encouraged to contact the Susanville Police Department at 530-257-5603.