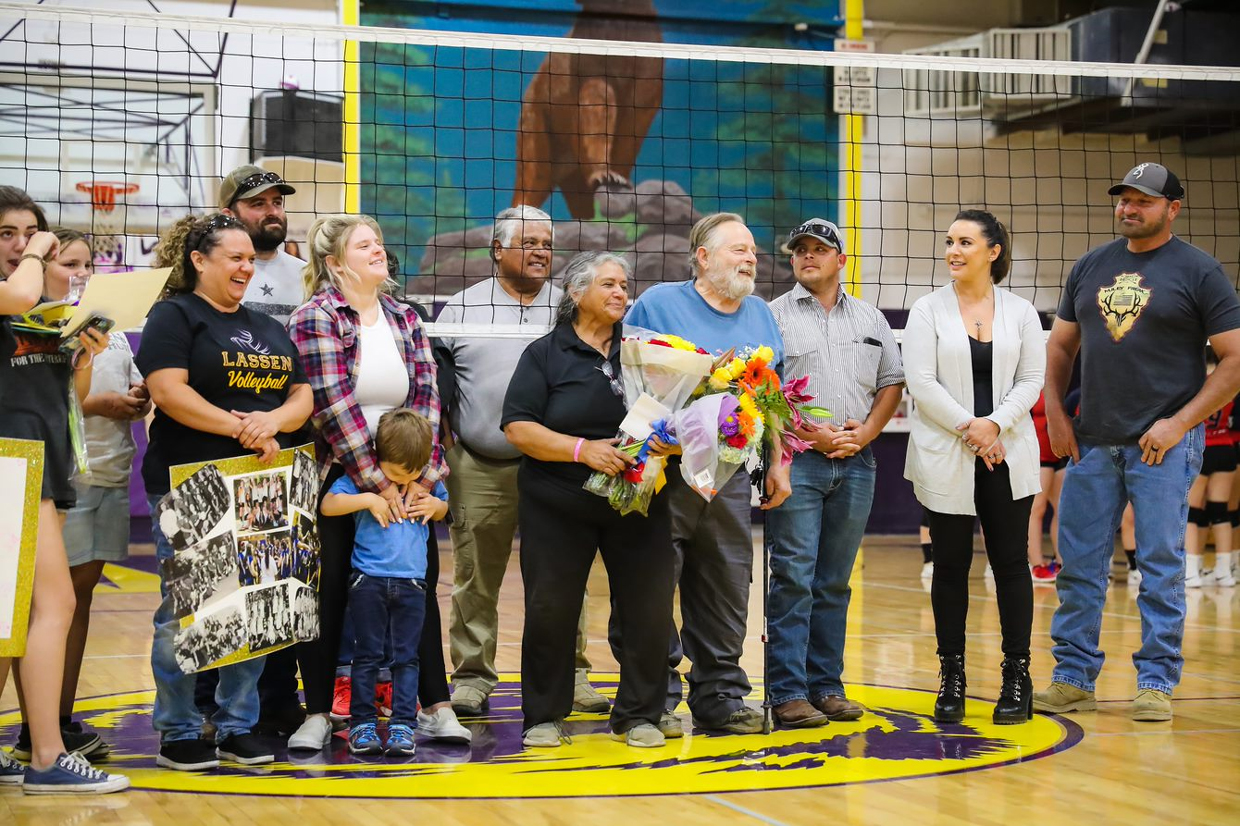 by Shelley Bennett
If you played Volleyball at Lassen High School, chances are Vickie Schmidt was one of your coaches. Vickie has been a part of the LHS volleyball program since its inception in the early nineties. Like head varsity coach Jessica Larson said, "it's hard to imagine this program without her."
For the last thirty-one years Vickie has coached volleyball in some capacity. She started out as a volunteer and then was paid when the sport was sanctioned at LHS. Vickie has provided the foundation of skills and strategy to freshmen girls that they will need to be successful in the program.
Something else she provides is kindness. Her daughter Julie Brown says, "she is so kind and really makes an impression on the young girls. Freshmen year is hard for a lot of girls, and she always treats everyone kindly and finds out how to get the most out of each player she had."
Under Coach Schmidt, the freshmen volleyball team has eight league titles, including one against rival U-Prep in 2021.
Vickie has been married to husband Steve for almost 50 years. Together they have four children: Laura, Jen, Rob, and Julie and seven grandchildren.
I have had the honor of knowing Vickie and Steve for those 50 years. My earliest memories are of office Christmas parties in the banquet room of the St. Francis. Steve and my dad worked at Simpson and Associates and eventually became partners with Fred Nagel in the early 80s.
I remember going to Vickie and Steve's property in Janesville where there were always outside games (including volleyball) and lots of great food.
Granddaughters Liv Ormachea and Alexa Schmidt both agree that their grandma is the best woman they know. Liv says, "she has been the best mentor and coach to me while growing up" while Alexa remembers "she has always believed in me, and she will always love this community."
Another thing Vickie is known for is being a great cook and baker. Liv says her grandma's chicken mole is her favorite food and Alexa's choice is pumpkin roll.
Grandson Duram commented on the commitment and time Vickie has put into the volleyball program. He says, "she has coached her daughters, granddaughters…she's always been a rock in this family, keeps us all together no matter what."
Duram also votes for the chicken mole, but says their family is split because there are so many to choose from.
Julie says her mom's cookies are her favorite and that she is known for making the best sugar cookies. They used to sell them for volleyball fundraisers. My husband Leo loves her chocolate chip and snickerdoodles. As an employee at NST he got weekly treats when Vickie was manning the desk.
Gabi Geoia served as Vickie's assistant coach this season and also played for her as a Lassen freshman. She says, "Coach Vickie taught me how to love the game as a player and then taught me how to share that passion with others. It has truly been an honor and privilege to learn how to coach and play from her."
As a coach, there is no higher accolade. When you instill a love for something in someone, it just continues to grow and influence others.
Happy Retirement to Coach Vickie! Your dedication to our volleyball program is unmatched, but you have left them with strong roots, and strong roots produce beautiful leaves.
---
Remember when news was 'newsy'? When you read about weddings, family events and engagement announcements in the newspaper? If you have something that might be newsworthy, please submit it to shelleybennett24@gmail.com and I'll do my best to include it here in "The Good Stuff."