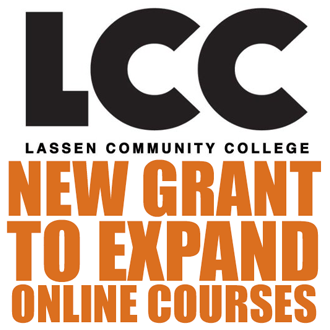 Lassen Community College was recently awarded a $404,250 grant to develop and strengthen career education programs that can be completed online. Awards were made through the Improving Online CTE Pathways grant program developed by the California Community Colleges' California Virtual Campus – Online Education Initiative. One-time funding for the grants, $35 million in all, came via the 2018-2019 state budget.
According to LCC's Grant Operations Manager, Michell Williams, the college aims to develop four new certificate programs in the Agriculture, Computer Science and GIS fields.
The new certificates will include Data Science, Drone Data Collection and Operations, GIS Data Layering and Data Application.
"These high tech certificates will prepare our students for work in the fields of Agriculture, Forest Service, Bureau of Land Management, Federal Civilian workforce for the Department of Defense, and State or Federal firefighting agencies just to name a few," explains Williams. "Our goal is to be able to start offering courses Fall 2020."
"This funding will enable us to improve our instructional web presence and provide new CTE high tech, high skills job preparation for 21st century skill set demands. Building online certificates will allow us to expand our reach to students who are unable to travel to campus and make our educational offerings more accessible to community members."
The college will be seeking qualified applicants for part-time teaching positions in their new certificate programs.
LCC Superintendent/President Dr. Marlon Hall said, "Through these offerings, LCC is taking a little step to assist our students in the beginning of a new journey."
A total of $27.5 million in grants to 70 community colleges were awarded earlier this month with a primary focus of increasing the number of transfer degrees awarded by the state's community colleges and its mission is to provide access to and success in high-quality, online programs and student support services.
"Academic Senate looks forward to participating in the professional development and curriculum design of the Online Education Initiative," said Academic Senate President and faculty member Roxanna Haynes, "We support the adoption of the designs standards developed by the initiative to ensure a high quality learning environment promoting student success. These new online design standards will also foster positive academic experiences that support course and degree completion."
The grants are aimed at helping community colleges develop online programs that either lead to short-term, industry-valued credentials or enable a student in a career pathway developed by the new California online community college to continue his or her education in a career pathway offered by a traditional community college.
One-third of students in the California Community Colleges system now take at least one class online.