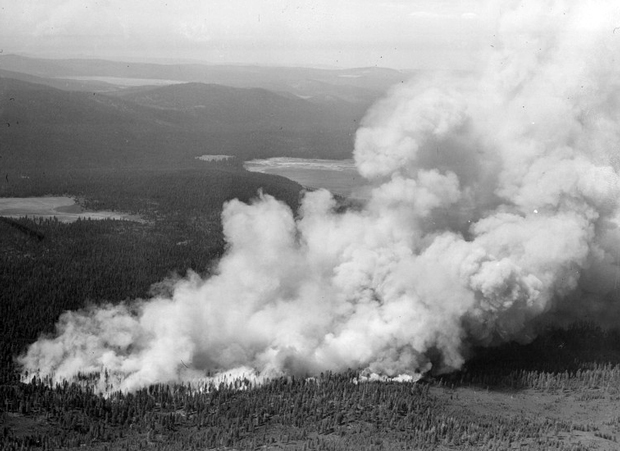 Forest Fire in Susanville Area Brought Under Control After Burning 19,000 Acres
September 28, 1955
The Merrill Flat fire that started Labor Day afternoon, presumably from lightning, was brought under control Thursday morning about 10 o'clock after burning more than 19,000 acres of cut-over and some good timberland.
More than 800 men fought the fire under adverse weather conditions. Winds of more than 20 miles an hour carried sparks more than a mile ahead of the main fire.
While the fire is now believed to be under control, the same number of men will stand by in case of new outbreaks. The wind has calmed down, which greatly assisted the firefighters.
Two fire camps are operating camps and fire line control points are connected by two radio nets.
Lumber companies of the Susanville area have practically all their men engaged on the fire – night and day shifts are being operated. Heavy equipment in use includes 26 bulldozers and 15 line tankers, in addition to huge 'mother' tankers that keep the small units supplied with water. A big snag pusher is being used to push standing dead trees down.
More than 25 sets of power saw operators felled dead trees on either side of the control line as rapidly as the lines were built, and linemen removed thickets of green trees and constructed hand control areas in terrain where bulldozers could not operate.