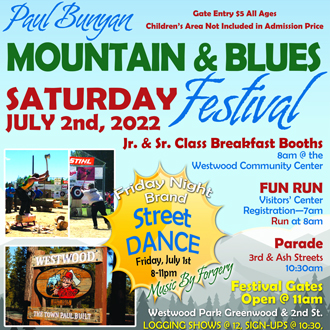 The Westwood Area Chamber of Commerce's big, annual Paul Bunyan Mountain and Blues Festival takes place this weekend, featuring live music, a logging show, a parade, a fun-run and much, much more!
The weekend begins tonight with a downtown street dance featuring one of northeastern California's premiere cover bands, local favorites Forgery. The dance is free and starts at 8:00p.m. in front of the railroad depot.
Tomorrow's fun activities include Breakfast Booths at 8:00a.m. in the Community Center, a Fun Run and the parade, which begins at 10:30a.m. at 3rd and Ash streets.
Festival gates open at 11:00a.m. in Westwood Park, Greenwood and 2nd streets, and will feature a logging show, antiques, crafts, collectibles, a kid's area, games, and Blue Ox Bingo.
There will also be Pickle Ball on the tennis courts and food booths and more.
Two bands will be providing some awesome blues music for the afternoon: Stephen Kimball from noon to 2:00p.m., and Rowland and Tumblin' from 2:30 to 4:30.
For more information call 256-2456 or visit westwoodareachamber.com.