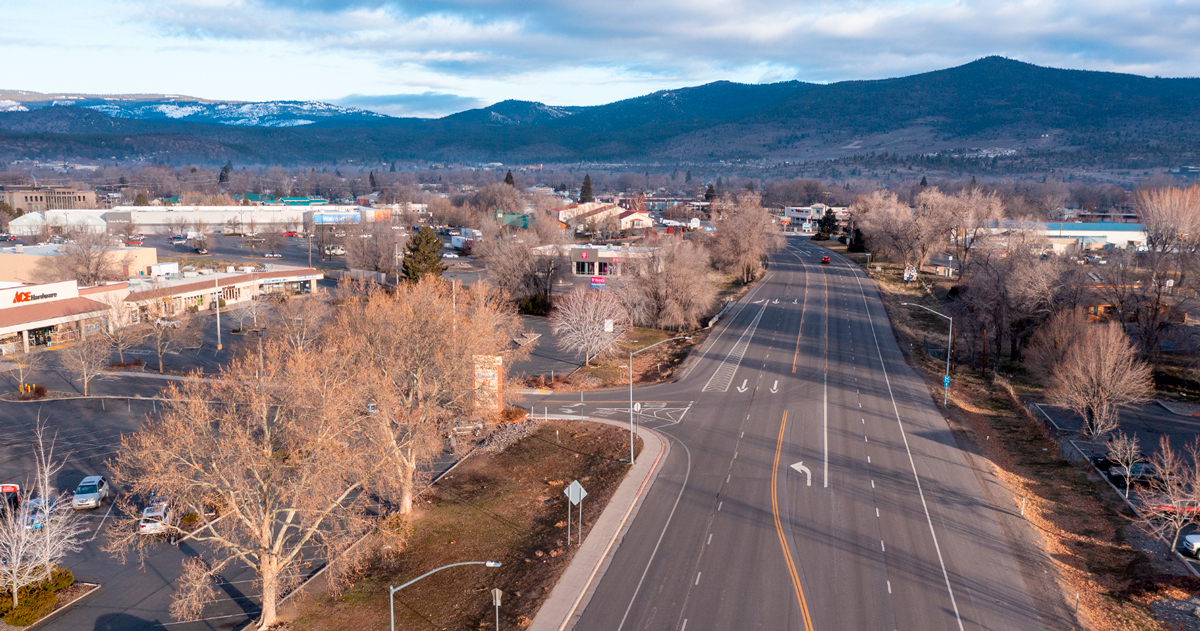 by Jeremy Couso
SusanvilleStuff Publisher
Happy Friday kids! Wow! Thank you to everyone who submitted answers for our mystery Main Street picture. (If this doesn't ring a bell click here and read last week's Dispatches)
A whole bunch of you got the correct answer, and a lot of you had the general idea but were one or two streets off.
The answer is that the French Laundry, seen in the old photo, was at the corner of Main and North Mesa streets. On the right you can see the building where Crossroads Ministries is now, which for years and years was, I believe, a lumber store. Maybe.
Lots of you said Spring Street or had the laundry building confused with Odette's building on the corner of Main and Fairfield.
The laundry building you see in the old picture burned down in 1950 and, judging by the military themed Wrigleys Gum billboard, the photo was taken about five years earlier.
Logan Right "On the Ball" as Laundry Burns Down
Indian Valley Record January 12th, 1950.
In a fire which started shortly before midnight on Saturday the French Laundry at Susanville was destroyed by fire. "Red" Logan of Crescent Mills, Indian Valley Agent, is reported to have been right on the ball, anticipating the calamity by a very few hours and retrieving 98% of his bundles before the fire.
Wait what happened to the other 2 percent? Did he leave some bundles at the laundry?
Among those due to go shirtless are Harry Johson, Ernie Walters, George Burton and Dr. Baldwin. They having been known to have had bundles which were lost in the blaze.
An article in the Reno Gazette, published the next day, gave more of the details surrounding the building's demise.
Susanville Fire Loss $40,000
Susanville's first fire this year resulted in the complete loss of the Model laundry Sunday morning. The blaze started about 12:15 o'clock and cause of the fire has not been determined. Loss, not covered by insurance (ouch) was estimated at $40,000. The laundry is a partnership by three brothers – Daniel, Maurice and Henry Sanchez.
A month later the three brothers announced that they would build a new, much larger plant to replace the old one, two blocks west at the corner of Spring and Main. The new cinder block building cost $32,000 to construct, with another $20,000 going to new equipment.
That building is still there today, at the corner of Spring and Main and for the last ten years or so it has been the home of Superior Auto Body.
In addition, my friend Robert Ramey who now lives in Oklahoma, but grew up here in the Milwood District during this time period, remembers these details.
"The building on the south was, at the time, a Garage and Welding Shop run by Mr. Alsup, who was a good welder. He lived on Gilman Street."
"The truck sitting on the north side with high sideboards I believe was the one he used to haul Christmas trees which he stacked on a vacant lot beside his house on Gilman Street. The trees were hauled to and sold in big cities at Christmas time."
"I know this because at the time I lived on the corner of Gilman and Second Street and his house was just behind our house. I was in school with Delmer Alsup, Mr. Alsups Son. He had three sons Delmer, Billy and Johnie Alsup."
"We played on that stack of Christmas trees. Up until they built a house on that lot. That was part of my good old days in Susanville."
Robert is one of those guys, like Fred Pace, who I always rely on for their razor-sharp memories of those years in Susanville.
And the winners are…
So many of you entered, and so many of you were correct, that I felt bad just giving away one SusanvilleStuff coffee mug.
At first, I was going to give a mug to everyone who got it right, but when I told our promotions department (Mrs. Couso) that I had 114 people with correct answers she told me I could give away five.
So here are five, randomly chosen winners and thank you to everyone who entered! It was fun reading through your submissions.
Drumroll please… Larry Wilson, Kirstin Newton, Andria Cuypers, Arlen Mallery and Vianna Robbins.
I will email you guys and figure out how best to get you your spiffy new SusanvilleStuff beverage holders.
My High School Reunion
I saw a notice the other day on Facebook that this July the Lassen High Class of Eighty-Eight is having our class reunion. To which my first reaction is – again? So soon?
But I'm ok with that. Reunions are pretty fun, and I don't dread them like I used to. The last time around our band played, so I got to sort of just play music and watch the people I went to school with. It was a good time and I got to visit with people I like, who I don't get to see very often, while still hiding behind a microphone most of the night.
And my 30th seems like a big, monumental reunion. I even made a big deal about it for a few days, thinking, "Wow you know, thirty years is a pretty long time."
I told Marshel that I remembered playing at Dad's 30th reunion for the Lassen High Class of '66 and I don't remember anyone seeming that old, they were still a fun group.
I was owning it. I was thinking, "wow, you know, I feel really good about our thirtieth, I have accomplished a lot in those thirty years."
This went on for a few days, until I finally did the math and realized that this would actually be our thirty-fifth reunion. Sigh.
Have an awesome weekend everybody! See you next week!